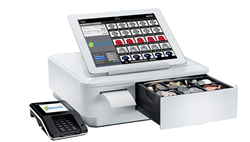 ...businesses are looking for a POS solution that is easily configurable, flexible, scalable and offered at the right price point. We believe eMobilePOS fits these requirements and has a great deal of potential in the Canadian market
(PRWEB) January 13, 2016
e-Nabler Corp., developer of the award-winning eMobilePOS® software, today announced a strategic partnership with Millenium Micro Group, the largest technology reseller buying group in Canada with over 250 members. The agreement enables Millenium Micro Group to offer eMobilePOS to all its members, serving the IT needs of thousands of small and medium-size Canadian businesses and government institutions.
eMobilePOS is a next-generation, full-feature tablet and mobile POS solution that works across all operating systems, including Android, Apple iOS and Windows. The solution provides small and medium-size businesses with access to POS features that large retailers use, but at a significantly lower cost and with more flexibility and style. Not only does eMobilePOS accept all types of payments, including Interac Debit, it also keeps track of inventory and has a fully integrated gift card and customer rewards program. eMobilePOS can easily be configured for any type of sales environment, including specialty retail, coffee shops, bars, quick-service restaurants, concession stands, restaurants and field sales. A broad selection of certified peripherals, such as receipt printers, card readers, tablet stands and bar code readers, are easy to set up and allows for customization.
The eMobilePOS software is provided as a service at a low monthly fee, with no initial expenses for servers or licenses–substantially lowering the barrier to upgrade to a new POS system and future-proofing merchants' POS infrastructure.
Under the terms of the partnership, Millenium Micro Group's resellers will benefit from eMobilePOS software and hardware bundles at volume pricing, a steady revenue stream, access to training and technical support, and dedicated account management.
"We are very excited about the partnership with Millenium Micro Group," says Joel Vazquez, president of e-Nabler. "The partnership gives us a jump-start on the Canadian market, with access to more than 250 business partners and thousands of their end-user clients across Canada, providing them with a feature-rich and cost-effective POS solution — a vision that we share with Millenium Micro Group."
"We see a growing demand for tablet-based and mobile POS solutions among midmarket customers in Canada," says Marco Michaud, vice president of Millenium Micro Group. "Specifically, businesses are looking for a POS solution that is easily configurable, flexible, scalable and offered at the right price point. We believe eMobilePOS fits these requirements and has a great deal of potential in the Canadian market."
About Millenium Micro Group
Millenium Micro Group is a national regrouping of independent resellers operating in the sectors of retail sales and sales to small and medium sized businesses. The members meet the needs of these markets by offering a superior level of customer service and the largest selection of technology products in Canada. Founded in 2003 in Quebec, Canada Millenium Micro Group is the largest reseller-buying group in Canada with more than 250 resellers, with at least one reseller in each of the provinces and two territories. Millenium Micro Group resellers have numerous membership and suppliers benefits. Fore more information, please visit http://www.milleniummicro.ca.
About e-Nabler ,Corp.
Founded in 2001, e-Nabler Corp., the company behind the award-winning eMobilePOS software, is one of the pioneers in mobile POS solutions and cloud-based software-as-a-service. eMobilePOS was the first full-featured POS app on iTunes and has, to date, processed more than 3 billion transactions. The company was recognized with the "Best New Mobile App" by AT&T during CTIA in 2008 and was awarded RSPA's Innovative Solution Award at RetailNOW 2011. eMobilePOS is available for Android, Apple iOS and Windows. For more information, please visit http://www.eMobilePOS.com or follow us on Twitter at @eMobilePOS and on Facebook.