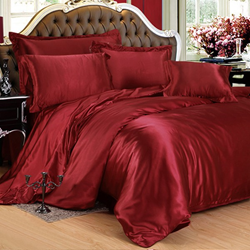 ElleSilk's silk bedding accents have everything you need to decorate your bedroom in color and style.
NEW CASTLE, DELAWARE (PRWEB) January 14, 2016
ElleSilk.com, the leading store offering Mulberry silk bed linens, has recently launched the 2016 new collections of silk bedding sets.
ElleSilk's latest bedding collection contains new arrival silk sheets, silk duvets, silk pillowcases, etc. They are thoughtfully selected to assure a bedding ensemble with enduring appeal. Available in over 20 colors including Black, Red, Grape, Navy, etc. the silk bedding accents have everything needed for decorating a bedroom in color and style.
Why is silk so perfect for bedding? To start silk doesn't bunch up, which means it provides the entire body even heat. The beautiful structure of silk at a microscopic level is what allows a small, but effective, amount of air to naturally help the body regulate its temperature. As you overheat your body perspires and silk's breathable nature allows that moisture to escape thus cooling the body, this is known as a wicking effect. Not only that but silk gives an even amount of cooling throughout the night so your body doesn't need to be constantly readjusting.
Silk is perfect for all seasons. Silk sheets and silk pillowcases do not even need to be switched out from summer to winter.
To see ElleSilk's full range of 2016 silk bedding sets visit https://www.ellesilk.com.