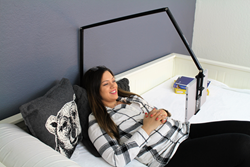 "If you think about it, we all walk around with supercomputers in our pockets. Smartphones and tablets play a key role in almost every aspect of our lives. So why are we still holding them like cavemen?"
San Francisco, CA (PRWEB) January 13, 2016
MyHangover, the revolutionary stand that allows for hands-free smartphone and tablet usage, has launched its crowdfunding campaign on Kickstarter.
MyHangover has pioneered a new category in stands that specifically targets users who enjoy relaxing with their smart devices. The innovative design literally hangs over user's heads when they are sitting or lying down. It's the answer for everyone who uses a phone or tablet while in a resting position, either watching movies, video chatting, or browsing the web.
"If you think about it, we all walk around with supercomputers in our pockets. Smartphones and tablets play a key role in almost every aspect of our lives," says Willy Tatola, CEO and founder of myHangover, "so why are we still holding them like cavemen?"
While most stands for smartphones on the market are designed as charging docks or for use on the desk, myHangover is going after a completely different user, the one who enjoys kicking back with their smart device for casual entertainment use- whether it's watching Netflix, browsing fantasy football scores, or simply FaceTiming with friends.
The goal of myHangover is to eliminate arm fatigue and strain typically associated with prolonged viewing use of our smartphones and tablets. Holding our devices has been medically proven to worsen posture and increase chances of developing a strain in the neck coined "text neck." According to a recent research study conducted by Dr. Kenneth Hansard, looking down to view our smartphones is causing gradual strain on the spine which over time can eventually lead to early wear and tear, degeneration, and possibly surgeries.
MyHangover not only solves the above issue, but is also a versatile product that can be used in a variety of modes. In addition to the trademark look of the 'myHangover' design which allows the device to 'float' in front of the user, the device can also be set up in a vertical standing position. When set up this way, the device mimics the look of a traditional music stand, allowing for musicians to use and easy viewing in the kitchen while following recipes.
The inspiration for the product came when Tatola's fiancé injured her shoulder and had to wear a sling. With only one hand available to use, Tatola created a make-shift stand out of a broken lamp so she could still use her tablet. It was then he knew he was on to something. After spending a year designing and prototyping myHangover, the product is finally ready to bring to market.
MyHangover measures 46.5" tall while standing vertical with a 24" arm reach while in overhead position and is compatible with all smartphones and devices up to 10".
MyHangover starts at $59 on Kickstarter for early backers with multiple quantities available at an additional cost.
For more information on myHangover visit: tatolAPP.com
About myHangover
tatolAPP Inc. is a Bay Area based company founded by Willy Tatola in 2015. Being a first generation Tongan-American, he strives to be a pioneer in promoting Polynesian-built technology. tatolAPP Inc. focuses on creating innovative products to improve the quality of life. tatolAPP's first product, myHangover, provides a new and improved viewing experience for smart phones and tablets. It is a multi-functional stand that can be configured into several positions to view smart devices comfortably and hands-free, whether watching movies, video chatting, or simply surfing the web.
###