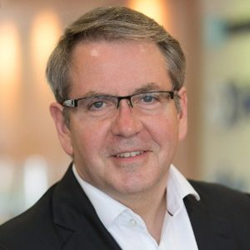 2016 marks an ambitious year for us and I'm delighted to welcome Andrew to the team.
Warwickshire (PRWEB UK) 13 January 2016
Keen, previously VP Revenue Operations & Strategy at Huddle, will spearhead the execution of Rant & Rave's aggressive growth strategy, focussing on accelerating market penetration and international expansion.
With more than 20 years of sales, operations and management experience, gained in international roles for global organisations like Digital / HP, Siemens, Amdocs, Mimecast and Huddle, Keen's appointment marks a significant investment in expansion by Rant & Rave.
He said, "Rant & Rave are at the forefront of a transformation that is redefining how organisations interact with their customers and differentiate themselves from their competition. Companies are realising that the legacy model of collecting and reporting on feedback does not work in today's always-on world. By listening to, learning from and responding to the needs of their customers in real-time, Rant & Rave clients are able to enjoy a distinct competitive advantage - I'm delighted to be part of this transformation and to help drive its growth."
Rant & Rave's unique technology platform combines leading text analytics capability with multi-channel communication solutions that lets brands not only capture the Voice of their Customers but take real-time, inspired action.
Dennis Fois, CEO, Rant & Rave, said "2016 marks an ambitious year for us and I'm delighted to welcome Andrew to the team. I have no doubt the experience he brings with him will be instrumental in executing on our growth and expansion plans."
Notes to Editors
About Rant & Rave
Rant & Rave (formerly known as Rapide) was launched in 2000 by Nigel Shanahan and is one of the UK's leading customer engagement specialists, counting half of the FTSE as clients.
Its multi-channel solutions let brands proactively communicate with and gather fast feedback from their customers to manage and measure their customer experience. By providing solutions which are customer, not brand, centric Rant & Rave helps its clients to transform Ranters into Ravers and turn happy customers into lifelong advocates.
To find out more about Rant & Rave visit http://www.rantandrave.com.