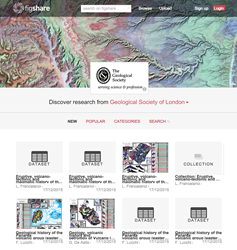 Using Figshare will enable the Society to make author supplementary material easier to view and cite, and will also show authors the usage statistics for their data.
London, UK (PRWEB) January 12, 2016
London, January 12 – Figshare, an open repository that allows storage, visualisation and sharing of research and supplementary material has announced a strategic partnership with The Geological Society of London (GSL). The GSL–Figshare partnership provides for an improved discoverability and archiving service for author data sets and other supporting material for articles published in the Society's journal and book publications.
The interactive software powered by Figshare enables readers to view author supplementary material, which GSL will deposit on behalf of their authors. The data can be displayed in more than 600 formats, including video and multimedia files, tabular data and geosite data. Access to supporting data within any GSL publication is now freely available to all users via the Society's Figshare portal at geolsoc.figshare.com. Additionally, the archive of supplementary material from articles published between 2003 and 2015 will soon be available on the Society's Figshare portal.
Authors publishing with GSL will see their supplementary material in a more dynamic environment, free from any restrictions on size and format. Authors will also be able to share the material more easily and track usage through Figshare's metrics. Every file uploaded to Figshare will be easily citable (with a DOI allocated at the point of publication) and will be stored under a Creative Commons License to facilitate reuse. For every item on Figshare there will also be a link back to the corresponding article on the Lyell Collection, so not only is the supplementary material more discoverable, so is the original article. GSL encourages authors to submit their full data sets as part of the supplementary material, thus allowing them to comply with funder mandates around open data.
'We're excited to launch this new service for our authors' says Neal Marriott, Director of Publishing, Library and Information Services. 'Using Figshare will enable the Society to make author supplementary material easier to view and cite, and will also show authors the usage statistics for their data. This new service also enables the Society to streamline its processes in publishing such data and we will be encouraging authors to deposit their data via our Society portal where there is no suitable alternative.'
Mark Hahnel, CEO of figshare said "With funder mandates around open data becoming an increasingly important issue, we're delighted to partner with GSL to help their authors with compliance. GSL have shown leadership and innovation by providing an intuitive service within the publication process that authors are already familiar with. Beyond compliance, GSL are also helping their authors' research go further as well as helping the wider research community by making supplemental data available. Plus, geological data generally looks awesome too!"
--------
The Geological Society of London, founded 1807, is a learned and professional body of nearly 12,000 Earth scientists with a remit to investigate, interpret, discuss, inform and advise on the nature and processes of the Earth, their practical importance to humanity, and, in the interests of the public, to promote professional excellence. The Society offers advice to Parliament and Government, at individual and corporate levels. Registered Charity No. 210161.
The Geological Society Publishing House is a major international Earth science publisher and is dedicated to providing a high-quality service to Earth scientists throughout the world. The Society publishes a diverse range of books and journals, with over 8000 pages of new peer-reviewed geoscience literature being made available every year. The Lyell Collection at http://www.lyellcollection.org hosts the Society's journal titles, Special Publications and key book series.
Figshare is the research data management tool for researchers, academic institutions and publishers. The platform allows any file format to be presented and visualized in a customized browser so that illustrative figures, data and other file sets, diverse audio visual media, papers, posters and presentations can be disseminated in a way that complements traditional scholarly publishing technologies. Figshare is a portfolio company of Digital Science.