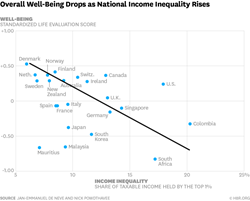 ... our research shows that, worldwide, income inequality at the very top makes us all less happy with our lives, even if we're relatively well-off
Oxford, United Kingdom (PRWEB UK) 13 January 2016
The rich getting richer is more depressing than a rise in unemployment, shows research
The persistent rise in the share of income held by the top 1 per cent in many countries round the world is damaging the wellbeing of the other 99%, with worrying implications for public health and national productivity, new research has shown. A 1% increase in the share of taxable income held by the top 1 per cent hurts life satisfaction as much as a 1.4% increase in the country-level unemployment rate.
These findings are published in a working paper, Top Incomes and Human Well-being Around the World, by Richard V. Burkhauser (Cornell University), Jan-Emmanuel De Neve (Saïd Business School, University of Oxford), and Nattavudh Powdthavee (London School of Economics), and in a Harvard Business Review blog article by Jan-Emmanuel De Neve and Nattavudh Powdthavee.
'Some theories suggest that, overall, inequality can be a good thing: individuals are motivated by seeing others accumulate more wealth, as they believe that they can do the same,' said De Neve. 'While this may happen to a certain extent in some transitional or emerging economies, our research shows that, worldwide, income inequality at the very top makes us all less happy with our lives, even if we're relatively well-off.'
Using data from the Gallup World Poll and the World Top Incomes Database, the researchers plotted the share of taxable income held by the top 1% in each country over time against reported levels of life satisfaction and positive and negative emotional wellbeing across populations.
They found:

A pronounced negative correlation between individuals' 'life evaluation' – or the extent to which they were satisfied with their lives – and the share of income held by people in the top percentile.
No relationship between positive emotional well-being and inequality at the very top of the income distribution. This is probably because, as Nobel laureates Daniel Kahneman and Angus Deaton found in their 2010 study ('High Income Improves Evaluation of Life but not Emotional Well-Being'), measures of life satisfaction were sensitive to socio-economic factors such as a person's income level and employment status, whereas measures of emotional well-being were more sensitive to how people spend their time, such as commuting or caring for others.
A significant positive relationship between top income shares and negative emotional experience. In societies where the richest hold most of the country's income, people were more likely to report feeling 'stressed', 'worried', or 'angry' on the day before the Gallup survey.
'We started our research by asking if income inequality at the very top really matters to the life evaluation of the average person – and the results have shown conclusively that it does,' said Powdthavee. 'Other studies have demonstrated the strong links between unhappiness and low productivity, the increase in sick leave and stress; policymakers may need to pay more attention to the wider consequences of the rising share of income the top 1 per cent enjoy.'
The working paper, 'Top Incomes and Human Well-being Around the World', by Richard V. Burkhauser, Jan-Emmanuel De Neve, and Nattavudh Powdthavee is available here
To read the full HBR blog post click here
For further information or to interview Jan-Emmanuel De Neve, please contact the Press Office:
Josie Powell, Senior Press Officer, Saïd Business School
Mobile +44 (0)7711 387215; Tel: +44 (0) 1865 288403
Email: josie(dot)powell(at)sbs(dot)ox(dot)ac(dot)uk or pressoffice(at)sbs(dot)ox(dot)ac(dot)uk
Emily McDonnell, PR Coordinator
Tel: +44 (0)1865 614489
Email: emily(dot)mcdonnell(at)sbs(dot)ox(dot)ac(dot)uk
To interview Nattavudh Powdthavee, please contact:
Helen Durrant
h(dot)durrant(at)lse(dot)ac(dot)uk, +44 (0)20 7955 7395
Notes to Editors
About Saïd Business School
Saïd Business School at the University of Oxford blends the best of new and old. We are a vibrant and innovative business school, but yet deeply embedded in an 800 year old world-class university. We create programmes and ideas that have global impact. We educate people for successful business careers, and as a community seek to tackle world-scale problems. We deliver cutting-edge programmes and ground-breaking research that transform individuals, organisations, business practice, and society. We seek to be a world-class business school community, embedded in a world-class University, tackling world-scale problems.
In the Financial Times European Business School ranking (Dec 2015) Oxford Saïd is ranked 10th. It is ranked 10th worldwide in the FT's combined ranking of Executive Education programmes (May 2015) and 22nd in the world in the FT ranking of MBA programmes (Jan 2015). The MBA is ranked 7th in Businessweek's full time MBA ranking outside the USA (Nov 2014) and is ranked 5th among the top non-US Business Schools by Forbes magazine (Sep 2013). The Executive MBA is ranked 2nd worldwide in the Economist's Executive MBA ranking (Sep 2015) and 9th worldwide in the FT's ranking of EMBAs (Oct 2015). The Oxford MSc in Financial Economics is ranked 14th in the world in the FT ranking of Masters in Finance programmes (Jun 2015). In the UK university league tables it is ranked first of all UK universities for undergraduate business and management in The Guardian (Jun 2015) and 2nd in The Times (Sept 2015). For more information, see http://www.sbs.ox.ac.uk/
About the Centre for Economic Performance
The Centre for Economic Performance (CEP) is an interdisciplinary research centre based at the London School of Economics and Political Science. CEP was established by the Economic and Social Research Council (ESRC) in 1990, since when it has continued to attract renowned academic economists from both the LSE and a wide range of universities within the UK and around the globe. There are currently seven programmes at CEP: Community; Education & Skills; Growth; Labour Markets; Trade; Wellbeing and the Urban Programme - and each programme runs a series of related projects addressing key issues. CEP's policy orientated research continues to build on its reputation as unique, ground-breaking and critical to policymakers worldwide.
For a full description of the Centre's main activities and areas of interest, please see here: http://cep.lse.ac.uk/_new/about/default.asp
ENDS