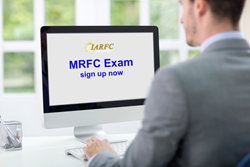 As part of the initial group of exam takers, you will be the first awarded the MRFC designation once our application to the NCCA is approved... H. Stephen Bailey, IARFC Chairman
Middletown, OH (PRWEB) January 12, 2016
To be eligible for the exam, practicing financial consultants must first meet the qualifications, then submit the MRFC application and application fee. Upon approval, applicants will be directed to a convenient testing facility.
"This is a great opportunity for people to take the exam and get in on the ground floor of the future of the Association," relates Amy Primeau, Domestic Membership. "People who take the exam during this trial period will be able to do so for only $125; a $175 savings over the regular exam fee. Why would you wait?"
The questions on the exam were developed from a detailed survey of Financial Consultants. Data collected represents the knowledge and fiduciary responsibilities a client can expect when engaging a financial consultant. To prepare for the exam, a Blueprint of these subject matter percentages and a list of reference material can be found on http://www.pathtomrfc.org.
The MRFC designation, when fully accredited, will be an important step for the IARFC. Those who obtain the designation are held to standards set forth by the NCCA – a third party accreditation agency. Designees will be expected to adhere to the IARFC Code of Ethics and complete a minimum of 40 hours of continuing education annually. To the public, dealing with an MRFC Consultant assures that high professional standards are met when dealing with their personal finances. These vetted individuals speak to higher level of professionalism.
"A lot of time and effort has been expended up to this point," relates IARFC Chairman, H. Stephen Bailey. "Those who obtain the designation can say with pride and integrity that they are a MASTER Registered Financial Consultant – with the accredited backing behind it."
For more information on taking this exam, visit http://www.pathtomrfc.org and go to the "Get Started" section. Detailed information can also be found in the MRFC FAQs.