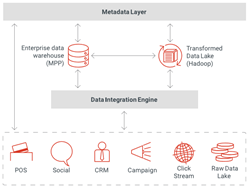 "The partnership with Zementis extends our capabilities by reducing the time it takes to move custom models into production environments" said Anand Sri Ganesh, Chief Product Officer, Manthan
Santa Clara, CA (PRWEB) January 14, 2016
Manthan, a leader in analytics solutions for consumer businesses, announced a partnership with Zementis which empowers businesses to easily deploy custom models.
Data Scientists have long struggled with both having access to clean, organized data for model building and with making the models available for business users for decision making. These challenges have kept predictive analytics adoption low, confined to only a few teams and fewer use cases.
The partnership, established in December, enhances the Model Management Capabilities of the Manthan's Customer360 and provides data scientists the ability to import and manage external custom models using the Zementis Universal Predictive Model Markup Language (PMML) Plug-in. Models imported into Customer360 can use the ready-for-analytics data residing in the customer data warehouse and generate insights quickly. The insights are readily available for business users to consume for decision making and for launching effective marketing campaigns.
"The partnership with Zementis extends our capabilities by reducing the time it takes to move custom models into production environments" said Anand Sri Ganesh, Chief Product Officer, Manthan. "Businesses now have the flexibility to use either Customer360's packaged analytical models for popular customer analytics use cases or to use custom models for unique use cases."
"The combination of best of breed packaged analytics solutions with the interoperability of the PMML standard, ensures that business users will have access to actionable insights at all times. By shortening the time-to-market for predictive models, businesses can drive down costs and improve profits much quicker than before. We are delighted to be part of Manthan's commitment to empower every business user with sophisticated analytics" said Dr. Michael Zeller, CEO of Zementis.
Manthan's Customer360 packages a range of analytical models for Behavioral Segmentation, Churn Prediction, Propensity, Recommendations, RFM and CLTV, and these models serve the common day to day insight needs of marketers. The partnership empowers businesses with the flexibility to deploy custom developed models in the marketer friendly Customer360 application.
Manthan will be showcasing its award winning analytics innovations at the National Retail Federation (NRF) Convention & Expo that will be held on January 17-20, 2016 at New York City's Jacob K. Javits Convention Center. Meet Manthan's Analytics experts at booth #3751 at the NRF Convention & Expo.
About Manthan
Manthan is the Chief Analytics Officer for consumer industries worldwide. Manthan's portfolio of analytics-enabled business applications, advanced analytics platforms and solutions are architected to help users across industries walk the complete data-to-result path - analyze, take guided decisions and execute these decisions real-time. Sophisticated, yet intuitive analytical capability coupled with the power of big data, mobility and cloud computing, brings users business-ready applications that provide on-demand access and real-time execution - the only path to profit in a contemporary, on-demand and connected economy. Manthan is one of the most awarded analytics innovators among analysts and customers alike .To see how your business can gain from analytics, visit http://www.manthan.com.