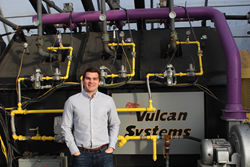 I'm excited to get customers to think that their material isn't a waste but a resource.
Moberly, MO (PRWEB) January 13, 2016
Vulcan® Systems, a world leader and innovator in thermal processing solutions, welcomes a new Technical Sales Engineer, Ross Tate, to its highly-qualified team.
Tate possesses experience in biology, biotechnology, wastewater treatment and sales and has assisted with projects from coast to coast of the United States. Tate studied biology and biotechnology, as well as business administration, before joining Therma-Flite and working with Paul Santos (now also a Vulcan® Systems team member) in the field. Traveling to different wastewater treatment plants around the country, Tate worked to develop drying systems to treat various types of industrial waste. While working in the field, Tate saw up close many plants that made use of thermal processing units, similar to the ones that Vulcan® Systems manufactures.
As a new Technical Sales Engineer at Vulcan® Systems, Tate brings a wealth of industry contacts and the ability to connect with more potential clients. He will be tasked with providing systems for municipalities to process waste, producing a class "A" biosolid.
"The regulations are pushing more and more toward the technology we're selling," Tate said about the agriculture and municipal industry. "We offer a technology that is more advanced than anything else available today with a capital requirement competitive with any other system on the market."
Tate looks forward to the opportunity to work with large customer bases, developing processing solutions for both smaller and larger operations.
"If you have a dairy with a thousand head of cattle, Vulcan® offers systems that are economically viable and able to process large quantities of biosolids," Tate said. "That's something that's unique to this company."
With the continued growth of the world's population, Tate believes that a focus on the agribusiness industry is essential to maintaining a healthy environment. His focus is on diverting agricultural by-products away from landfills and converting these materials to beneficial reuse.
"To be able to turn these facilities away from waste and to look at it as resource recovery," Tate said. "It's exciting to be part of that switch in thought: from waste to resource recovery. I'm excited to get customers to think that their material isn't a waste but a resource. You just have to provide them with the right solution."
Vulcan® Systems' goals to benefit the environment and convert waste to beneficial reuse align with Tate's. We look forward to the opportunity to work with Ross Tate to continue to develop innovative material processing technologies and thermal solutions for our customers.
Vulcan® Systems provides a full range of standard and custom equipment for thermal processing, including drying, calcining and thermal desorption. Vulcan® Systems' direct and indirect thermal process technology is used in a wide variety of industries and process applications, including animal manure drying, drilling waste remediation, biosolids drying, soil remediation, waste-to-energy processes and many more. For more information, visit http://www.vulcansystems.com.