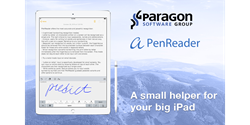 Freiburg, Germany (PRWEB UK) 12 January 2016
Paragon Software Group, a leading software developer for mobile devices and desktop computers, announces the release of PenReader, a handwriting recognition keyboard app for iPhone, iPod touch, and iPad that allows users to write with a finger or a pen directly on touchscreens in any of 38 supported languages.
PenReader converts handwriting into digital format with the highest accuracy and speed. Activating PenReader is easy: From your iOS device, navigate to Settings > General > Keyboard > Keyboards and tap Add New Keyboard. Select PenReader, tap the new entry, then toggle on "Allow Full Access".
Available via in-app purchase, languages are conveniently arranged in value packs:

CYRILLIC PACK includes Belarusian, Bulgarian, Kazakh, Russian, Serbian, and Ukrainian.
LATIN PACK includes Albanian, Catalan, Croatian, Czech, Danish, Dutch, English, Esperanto, Estonian, Finnish, French, German, Hungarian, Icelandic, Italian, Latvian, Lithuanian, Maltese, Norwegian, Polish, Portuguese, Romanian, Slovak, Slovenian, Spanish, Swedish, Turkish, and Welsh.
FULL PACK contains all supported languages.
Arabic, Hebrew, Greek, Georgian are also available.
Key features and benefits include:
Four optimized handwriting recognition modes:
Letter-by-Letter: All characters written on-screen will be recognized as a single word. Great for passwords, names, and abbreviations.
Cursive: Useful for complete words and sentences, like with a pen on paper.
Separate: Perfect for those who prefer writing words as separate letters. The app recognizes full words, but the finger or stylus should be lifted from the touchscreen after each letter.
Smart Recognition: Converts letters immediately after the finger or stylus is lifted. This mode does not require writing each letter with just one stroke.
Input tailor-made for small devices:
Letter-on-letter specifically developed for small screens. You can input an entire word by drawing letters on top of each other; the characters are then recognized as a single word.
Write words by parts for entering words symbol-by-symbol; PenReader suggests possible variants which can be accepted or ignored.
Save custom words in a personal user dictionary: If the user enters a word that's unavailable from the built-in dictionary, it can be saved to a personal dictionary with a tap on the prompt at the bottom of the screen.
Analysis of adjacent characters improves input accuracy in Cursive and Separate modes.
Special symbols ($, @, &, etc.) are displayed as an on-screen keyboard; alternate choices can be accessed via long tap.
App settings are grouped by theme with comprehensive descriptions.
PenReader requires minimal space on your device.
How does PenReader work?
PenReader is based on a handwriting recognition technology developed in 1968. While writing with a fingertip on the touchscreen surface, PenReader analyzes the coordinates of your finger movements, converting that data into print characters by performing tens of thousands of calculations per second. Ensuring the shortest possible delay and highest accuracy, PenReader is the top tool to convert handwritten text into digital.
The technology behind PenReader has been an industry standard for nearly two decades, used by millions of mobile users worldwide. In 1997, Paragon Software developed its proprietary handwriting recognition software for early PDA devices. Over the next few years, specialized operations such as orthographical correction of recognition results and support for 38 world languages were added, increasing the complexity, exposure and reliability of its handwriting identification. A full consumer version of PenReader with cursive text recognition was released in 2007. Unlike other input methods, PenReader adjusts to the user's natural handwriting style, requiring no adjustment or the use of complex symbols like those used in early handwriting recognition software. PenReader can be used in place of the default keyboard from any application, and can be easily configured to integrate completely with any operating system. The company recently released the PenReader API as part of a software development kit aimed specifically at device manufacturers.
Availability:
PenReader supports 38 languages, all popular operating systems, and is available free to download from the iOS App Store. https://itunes.apple.com/app/id1029053556?mt=8 PenReader is also available for licensing by OEMs: http://www.handwriting-sdk.com/ For more information, please contact technology(at)penreader(dot)com.