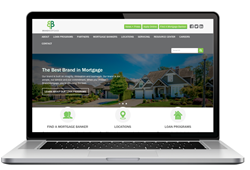 BrandMortgage is the best in the business, and we now have a website reflective of that reputation
Lawrenceville, GA (PRWEB) January 14, 2016
BrandMortgage, a top mortgage lender in the Southeast, is pleased to announce the launch of its new website. In collaboration with Black Bear Design in Atlanta, Ga., BrandMortgage has gone live with a more streamlined, modern site.
Built on a responsive framework, the new website focuses on usability and ease of navigation. The user experience was the driving force behind the design of the new site. Organizing the site's navigation to include quick links to finding a mortgage banker, applying for a loan online, learning more about the available loan programs as well as the company itself makes it simple for users to find the information they need. Resources such as a mortgage calculator, mortgage terminology, loan process and down payment assistance information are also available.
Fully responsive, the website adapts easily to tablet and mobile platforms, allowing viewers to experience a well-designed website on any device, in any location. Another primary goal was to elevate the look and feel of the site, bringing it in line with BrandMortgage's modern branding. The new site is sleek and clean, the navigation is simple and effective, and a robust search option is available to easily access any page or information on the site.
"BrandMortgage is proud of our new site, which allows the company to provide more comprehensive service to customers and business partners alike," says Alex Koutouzis, BrandMortgage's President and Managing Partner. "BrandMortgage is the best in the business, and we now have a website reflective of that reputation. It truly is a step forward for both BrandMortgage and its customers."
BrandMortgage's new website and features can be found at http://www.brandmortgage.com.
About BrandMortgage
Standing tall on their century-long history of operating with respect, trust and integrity, BrandMortgage is a subsidiary of The Brand Banking Company – which was founded in 1905 and is one of the oldest privately-owned banks in Georgia. BrandMortgage is focused on being the best and strongest lender in the Southeast and, while they provide loans in 10 states, the full-service lender has never outgrown their Georgia roots. Offering a wide variety of mortgage finance products, they help each and every client choose the best options to fit their budget and meet their individual needs. BrandMortgage strives to take the guesswork out of the application process and explains all of the options in simple, straightforward language so their clients feel comfortable and secure with their decision. To learn more about BrandMortgage and their broad assortment of mortgage finance products, please visit http://www.brandmortgage.com.