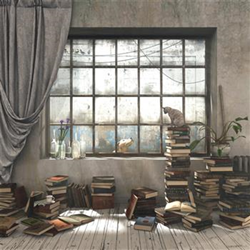 (PRWEB) January 14, 2016
Every month, American Frame, a web-based custom framing and art printing company, sponsors a contest for artists who sell and display work through American Frame's online Art Gallery. Winners are selected by customer votes on Facebook and receive a cash award and promotion through American Frame. This month's winner is Cynthia Decker, a digital artist who creates two-dimensional images from three-dimensional digital environments.
Decker's images sometimes begin with inspiration from the real world, as in the winning piece "The Introvert." "An abandoned warehouse in my town has these huge windows made up of small panes," she explains. "Seeing them from the outside made me imagine the light coming through on the inside. I carried the image around in my head for a while until I thought of the right story for the setting." This story turned out to be a cat (the introvert) who stands on a pile of books, contemplating his friend, a dog (the extrovert), through the window.
The idea that a static image can nonetheless tell a story captures the spirit of this and many other of Decker's pieces. These are not neutral still lifes or landscapes, but images with attitude, sly commentary and fanciful perspective. Other titles include "Washed Ashore," "Time Out," and "The Perfectionist."
Self-taught, Decker has shown her work in North Carolina and Tennessee and her art is on display in permanent exhibits in the Woolworth Walk Gallery and Mission Children's Hospital in Asheville, North Carolina.
For "The Introvert" Decker recommends either a gallery wrapped canvas or a walnut or charcoal wood frame with a double white archival mat. Contact the artist and follow her work through her American Frame gallery, Facebook, Twitter, Instagram and her own website.
About American Frame
American Frame provides professional-quality DIY custom picture framing supplies and fine art printing services at wholesale prices direct to the consumer. Its easy web interface allows customers to design a custom frame treatment for assembly in the comfort of their homes or studios. They can also upload a digital image to be printed on canvas or fine art paper and receive framed work ready to hang. All orders are handcrafted in Maumee OH and shipped within 2 business days. Family owned and operated since 1973. Love your art. Frame it right.™