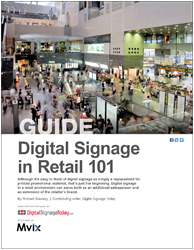 Digital signage is quickly moving from luxury to must-have in the retail space.
LOUISVILLE, KY (PRWEB) January 12, 2016
The report "Digital Signage In Retail 101" is now available as a free download from DigitalSignagetoday.com. Sponsored by digital signage hardware and software solutions provider Mvix, the report details how digital signage is affecting all aspects of the retail environment, including wayfinding, point of decision, point of purchase, branding/ambiance and customer experience.
"Digital signage is quickly moving from luxury to must-have in the retail space," said Christopher Hall, senior editor of Digital Signage Today. "Consumers now expect a consistent brand journey whether online or in-store, and as they become more and more habituated to the experience afforded them on their mobile devices, digital signage brings that experience to the brick-and-mortar space. Whether it's reaching millennials or keeping up with the Joneses, digital signage now has a permanent seat at the retail table."
The retail industry is one of the key drivers of the U.S. economy, supporting one in four jobs across the United States and generating a more than $2.6 trillion impact on gross domestic product each year. There are nearly 3.8 million retail establishments of all types across the country.
Retailers recognize the power of digital signage. The use of digital signage in retail outlets is projected to grow from $6 billion in 2013 to $27.5 billion in 2018, which translates to a 35.7 percent compound annual growth rate.
The editorial team at Digital Signage Today outlines in the report how strategically located signage can help shoppers find their way by providing clear directions to various destinations, building sales while at the same time helping to eliminate printing and deployment costs related to static signage. Once shoppers arrive at their destination digital signage can assist them with deciding what to purchase, serving as supplemental salespeople. Touch-capable signage allows retailers to extend their inventory beyond the walls of the brick-and-mortar store via "endless aisle applications." Digital signage software can be connected to a host of triggers, allowing for the automatic display of a sales promotion when inventory counts exceed certain targets or changing those promotions depending on factors ranging from weather to the day of the week.
And with the right content, a digital signage network becomes a brand experience, conveying communicating messages in a way that is consistent with the retailer's other communication channels, from its color scheme to the layout of its website.
To download the report Digital Signage in Retail 101 at no cost, visit this link: http://www.digitalsignagetoday.com/whitepapers/digital-signage-in-retail-101/
ABOUT MVIX
Founded in 2005, Mvix is the market leader in turnkey digital signage software and hardware solutions, multi-screen videowall solutions, and content management systems (CMS). Solutions range from simple, affordable, product showcase systems for retail and trade shows to enterprise-class digital signage hardware and custom software for complex deployments.
ABOUT DIGITAL SIGNAGE TODAY
Since 2007, DigitalSignageToday.com has reported on the important news, events, trends and people in the digital signage and digital out-of-home industries. We reach a global audience of professionals from all sectors of the digital signage market, such as hardware and software vendors, content providers, distributors and resellers, network owners and aggregators and end-users. Our site features a directory of product and service providers as well as slideshows, videos and research.
ABOUT NETWORLD MEDIA GROUP
Founded in 2000, Networld Media Group is a leading business-to-business (B2B) media communications company specializing in digital media, associations and events in the mobile, self-service, digital signage, retail, food service and financial services industries. Online properties include ATMmarketplace.com, DigitalSignageToday.com, FastCasual.com, PizzaMarketplace.com, KioskMarketplace.com, MobilePaymentsToday.com, VirtualCurrencyToday.com, QSRweb.com, RetailCustomerExperience.com and ChurchCentral.com. Networld's event properties include the Fast Casual Executive Summit, CONNECT Mobile Innovation Summit, Interactive Customer Experience (ICX) Summit, ATM & Mobile Innovation Summit and the Restaurant Franchising & Innovation Summit. Networld also operates the ICX Association.
###