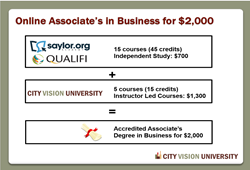 Kansas City, Missouri (PRWEB) January 14, 2016
City Vision University, an accredited online university based in Kansas City, Missouri, has partnered with the Saylor Academy and Qualifi, a UK Awarding Organization, to increase global access to higher education by providing a four-year degree pathway to students for only $5,000.
This unique partnership creates a path for students to access the free independent-study content provided by Saylor Academy, have it endorsed by a regulated United Kingdom Awarding Organization, take a third year from that Awarding Organization, and then transfer all their credits to City Vision University for a final year degree completion program. Qualifi, a UK Awarding Organization, has agreed to endorse the first two years provided by Saylor Academy and issue Qualifi Diplomas for each successful year. Students may then complete their third year through Qualifi's Level 5 in Business or Health and Social Care, achieving three years of an undergraduate degree which can transfer to City Vision University for a degree completion program in the final year through instructor-led online courses. The following is a summary of the degree path:
Associate's Degree Cost
$600: Saylor Proctoring Fees
$100: Qualifi Credit Endorsement and Transcript Fee
$1,300: City Vision Tuition: 5 Associate's Degree Courses
$2,000: Total Two Year Cost of Associate's Degree
Bachelor's Degree Cost
$2,000: Cost of Associate's Degree
$200: Saylor Proctoring Fees
$800: Qualifi tuition & accreditation + Athena support
$2,000: City Vision Tuition for 5 Courses
$5,000: Total Four Year Cost of Bachelor's Degree
Students will be able to get an accredited Bachelor's degree in Business Administration, Nonprofit Management or Addiction Studies through City Vision. City Vision is accredited by the Distance Education Accrediting Commission, which is recognized by the US Department of Education and CHEA. Qualifying students in the US may receive federal financial aid including Pell Grants and federal student loans and VA benefits for any courses taken with City Vision. City Vision will also be offering many of the Saylor courses as instructor-led courses qualifying for financial aid.
While many students may choose to go with independent study online, the degree path is also open to any educational center globally wishing to offer qualifications. Each center can provide local computer lab access and tutoring support to prepare for the competency-based exams provided by Saylor and Qualifi. The ultimate goal is to have hundreds of centers using Saylor material and Qualifi qualifications to transfer credit to complete their degree with City Vision online.
When asked about this partnership, Dr. Leah Matthews, Distance Education Accrediting Commission's Executive Director said, "City Vision and its partners are taking bold steps toward making quality education opportunities a reality for students. This partnership exemplifies the efforts being undertaken by colleges and universities worldwide to implement innovations that advance opportunities for degree attainment."
To find out more visit: http://web.cityvision.edu/saylor-qualifi/
About Saylor Academy
Saylor Academy is an education initiative funded by the Constitution Foundation a 501(c)(3) nonprofit with a mission to provide open education to all through open online courses and twenty-first century credentials. Saylor Academy provides Massive Open Online Courses (MOOCs) to thousands of students wanting a college education. Since 2012, Saylor Academy's credit-recommended courses have helped students overcome barriers of cost and time to complete college degrees.
About Qualifi
Qualifi is a UK Awarding Organization regulated by Ofqual in England and the Welsh government in Wales and is a signatory to the BIS international commitments of quality. Its mission is to enable learners throughout the globe to achieve their true potential by accessing learning programmes cost-effectively.
About City Vision University
City Vision University is a nonprofit Christian university established in 1998 with the vision of providing radically affordable online education to help others make a living and a life. City Vision is accredited by the Distance Education Accrediting Commission, which is recognized by the US Department of Education and CHEA.
About Athena Education
Athena Education is a center that supports delivery of Qualifi programs online. Staffed with international academic professionals with decades of experience in online and blended delivery, Athena Education provides an alternative to classroom-based professional vocational education.