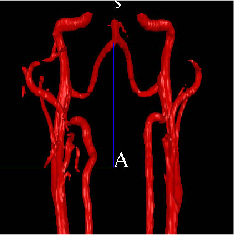 Physicians can now be more confident in prescribing balloon angioplasty and stenting to low blood-flow patients who are most at risk for another stroke. Patients with more normal flow levels may be able to avoid those procedures and the associated risks.
River Forest, IL (PRWEB) January 13, 2016
VasSol™ Inc. blood-flow measurement technology identified clinical trial patients at higher risk of recurrent stroke, and JAMA Neurology has published results of the National Institutes of Health-funded study.
The six-year, multi-center VERiTAS (Vertebrobasilar Flow Evaluation and Risk of Transient Ischemic Attack and Stroke) trial found that people who have a stroke in the back of the brain and continue to have reduced blood flow to the area have a higher risk of having another stroke within two years. Researchers used VasSol's NOVA® (Non-invasive Optimal Vessel Analysis) software -- which runs on magnetic resonance imaging (MRI) equipment found in most hospitals and imaging centers -- to assess blood flow in the back of participants' brains.
"NOVA is the only technology that can visualize and quantify the volume, speed and direction of blood flowing through any major vessel of the brain," explained neurosurgeon Dr. Fady Charbel, VasSol chief scientific officer and inventor of NOVA. "Identifying those at highest risk for a stroke makes studying the condition easier and leads to better, more precise therapies and more focused implementation of healthcare resources."
Results of the trial are expected to change the standard of care for posterior stroke patients, who account for roughly 40 percent of all strokes, or about 200,000 cases per year in the United States alone.
"NOVA helps answer fundamental questions that clinicians confront when treating vascular disease, such as what is the severity, how is the condition best treated, and what is the outcome," said VasSol CEO Chuck Doherty. "Physicians can now be confident in prescribing procedures such as balloon angioplasty and stenting to low blood-flow patients who are most at risk for another stroke. Patients with more normal blood-flow levels may be able to avoid those procedures and the associated risks."
"One of NOVA's distinct advantages is that it is based on technology that is widely available," said Dr. Sepideh Amin-Hanjani, professor of neurological surgery at the UIC College of Medicine, principal investigator for VERiTAS and an author of the JAMA Neurology article.
NOVA originated at UIC Hospital, where Dr. Charbel is a professor and head of neurological surgery. He founded VasSol in 2001 to commercialize the technology.
FDA-cleared since 2001, it is available at more than 40 hospitals and imaging centers throughout the United States, Asia, Canada and Europe. Recent installations include the Mayo Clinic (Scottsdale, Ariz.) and Northwestern Memorial Hospital (Chicago).
"We believe that NOVA should be included in the clinical and imaging assessment of posterior circulation stroke patients," said Dr. Shyam Prabhakaran, director of stroke research at Northwestern University's Feinberg School of Medicine. "At Northwestern, we're using it in the current MYRIAD (Mechanisms of Early Recurrence in Intracranial Atherosclerotic Disease) trial to further broaden its application in stroke-risk diagnosis and treatment planning."
VasSol has also developed NOVA applications to provide blood-flow information about vessels in other regions of the body including the kidneys, lower extremities and hands. It is exploring applications to measure blood flow in the ophthalmic artery in the eye, and the flow of cerebral spinal fluid, according to Doherty.
"Demand for NOVA is increasing, and we're seeking a multinational business partner that can improve its worldwide distribution," said Doherty. "We believe that NOVA will become a standard of care in evaluating stroke patients and those at risk for stroke."
"The VERiTAS clinical trial data changes the protocol for treating stroke patients," concluded Dr. Charbel. "At UIC we no longer prescribe a course of medical management without first measuring blood flow. Patients with low flow are immediately considered for intervention to potentially include endarterectomy, bypass, stenting, balloon angioplasty or other flow diversion techniques. We are confident that these procedures carry lower risk than the natural history of low-flow patients."
About VasSol Inc.
VasSol Inc. is a privately owned medical technology company based in River Forest, Ill. It was founded in 2001 by Dr. Fady Charbel, neurosurgeon and inventor of NOVA, the only technology to non-invasively provide detailed, quantitative information (velocity, volume and direction) of blood flow in any particular vessel in the brain. NOVA received FDA clearance in 2001, and is used in more than 40 hospitals and imaging centers worldwide.