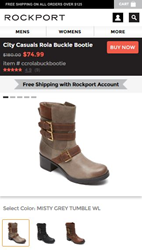 The fact that our mobile site is API-integrated into Demandware means that we can leverage the features of our ecommerce engine via a dedicated mobile site purpose-built for the ever-increasing percentage of our customers who shop from their smartphones
Boston, MA (PRWEB) January 18, 2016
A year ago, mobile solution provider Unbound Commerce was tapped by Rockport to redesign their dedicated mobile site from the ground up, with a goal of reducing friction, increasing conversion rates, and further leveraging and extending their Demandware ecommerce platform. Rockport implemented a new mobile-specific "Buy Now" button feature, for example, allowing more-motivated customers to reduce steps in the checkout process.
Rockport saw impressive year-over-year mobile commerce growth during the 2015 Holiday shopping season and year-end total mobile revenue growth exceeded all expectations.
During the 4 days of the Black Friday through Cyber Monday 2015 shopping weekend, Rockport saw year-over-year mobile commerce revenue increase by 124.80%, as compared to 2014. Mobile page views rendered over the Christmas shopping weekend jumped 60.61% and the mobile site bounce rate dropped -16.22%.
The number of unique users on the m.Rockport.com mobile site increased 40.11% and average pages viewed per user was up from 7.38 to 8.54, an increase of 15.71%. Revenue growth far-outpaced the rise in unique users, indicating that repeat buyers are returning to the mobile site for their shopping needs, and buying more while there.
Rockport has put mobile commerce at the forefront of their online growth plan and their 2015 numbers show this strategy paying off. Rockport's total 2015 mobile commerce revenue jumped 434% over 2014.
A dedicated mobile site affords Rockport specific advantages and they use landing pages and other tools included in the Unbound platform to deliver social media campaign traffic to mobile optimized pages where sales conversions are seamless.
They are breaking down internal silos between ecommerce and mobile marketing, and this year's results speak volumes regarding the success of this strategy.
"Mobile serves as a direct link to the consumer", said Jason Israel, VP North America Retail at Rockport. "It is becoming the cornerstone of our online sales strategy and the fact that our mobile site is API-integrated into Demandware means that we can leverage the features of our ecommerce engine via a dedicated mobile site purpose-built for the ever-increasing percentage of our customers who shop from their smartphones", he added.
About The Rockport Group:
The Rockport Group designs, markets and sells comfort footwear with distribution in premier independent, online and department stores in North America and more than 63 markets worldwide. In August 2015, Drydock Footwear Group acquired The Rockport Company to form The Rockport Group, the new home to the companies' combined portfolio of men's and women's brands, including Rockport, Cobb Hill, Aravon and Dunham. Headquartered in the greater Boston area, the Company merges Drydock and Rockport's collective vision, talent and commitment to innovation, dating back to Rockport's beginnings in 1971. For additional information, please visit http://www.rockport.com.
About Unbound Commerce
Unbound Commerce is the industry's #1 provider of mobile commerce solutions for online retailers. Unbound's unique, low-IT hybrid approach means an ecommerce integration can be leveraged to deliver mobile commerce, tablet commerce, commerce-enabled apps, and in-store engagement. Unbound also equips each mobile site with marketing tools to help retailers and brands bridge online and offline consumer touch points, at point of sale. Unbound has built and deployed dedicated, integrated mobile and tablet sites for Patrick James, Monster Cables, Shoe Carnival, Rockport, Finish Line, FLOR, Miller Coors, Adam and Eve, Joma Shop, The New England Patriots, Cavenders, and over 600 other retailers. For additional information, please visit http://www.UnboundCommerce.com .