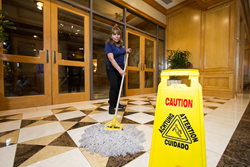 With the paycard from SOLE Financial, we can empower all of our employees to participate and avoid the high costs associated with check cashing.
(PRWEB) January 13, 2016
SOLE Financial Partners with Corporate Building Services
SOLE® Financial, a leader in the payroll card market, has partnered with Corporate Building Services ("CBS"), a Dallas, Texas-based comprehensive janitorial staffing services company, to offer the SOLE Visa® Payroll Card to its temporary employee base of 700 service, cooking, engineering, manufacturing, sanitation and porter workers.
The unbanked employees who work for CBS will now have access to services typically only offered to the banked population, such as online bill pay, point-of-sale cashback and a mobile app to check account balances. The SOLE Paycard provides cardholders with their paycard's routing and account numbers so those employees can use the card for any direct deposits. This feature gives cardholders the ability to receive tax returns, child support, and paychecks from any job, all in one place. For many cardholders, the paycard is their first experience of holding all of their money electronically, in one FDIC-insured account.
Implementing the SOLE Paycard will allow CBS's payroll staff to reallocate resources previously dedicated to the sorting, shipping, and envelope-stuffing of paper checks every other Friday. CBS, which prides itself on maintaining efficient business processes, was issuing 625 paper checks at the time of contract signing. CBS is expected to save $52,675 annually by transitioning those employees from paper checks to the SOLE Paycard.
"We are excited that our paycard is part of the Corporate Building Services paperless initiative," said SOLE Financial President Tom Secor. "As I've gotten to know the team, it's become apparent that their culture revolves around providing best-in-class services to both their clientele and to the employees who make it all happen. We look forward to being a part of CBS's all-inclusive direct deposit message. For the employees, namely the unbanked, who need an alternative to the antiquated brick-and-mortar bank account, we're ready to serve."
From CBS Payroll Manager, Diana Arenas: "Taking care of our employees is critical to our success and was one of the main reasons we looked to partner with SOLE Financial to provide a payroll card to our people who needed access to our direct deposit system. A number of our people didn't have a bank account and couldn't sign up for direct deposit. With the paycard from SOLE Financial on hand, we can empower all of our employees to participate and avoid the high costs associated with check cashing."
About SOLE Financial:
SOLE Financial aims to serve the underserved by providing a low-cost paycard alternative to predatory check-cashing services for un- and underbanked employees. By partnering with employers to achieve 100% direct deposit, SOLE saves employers time, paper and money while providing the convenience and dignity of traditional banking services to the unbanked workforce. SOLE paycard holders can access their hard-earned paycheck at no cost through point-of-sale and cashback transactions.
SOLE Financial is a rapidly growing company in the payroll card marketplace. Since 2010, SOLE's topline revenue has increased by 346% while its active funded cardbase has increased by 394%. SOLE serves over 3000 employer clients nationally.
About Corporate Building Services:
If you manage a growing business today, the last thing you need to worry about is your cleaning service. No one understands this better than Corporate Building Services, Inc. CBS meticulously and consistently handles every detail of its customers' cleaning needs so they can rest assured they're getting the finest service available.
Corporate Building Services was established with a handful of employees in 1954. Because of its excellent reputation over the years, CBS now employs hundreds of dedicated workers who provide comprehensive cleaning of fine hotels and restaurants, schools, churches, movie theaters, car dealerships, health care facilities, retail stores and more.
The SOLE® Visa® Payroll Card is issued by Axiom Bank, member FDIC, pursuant to a license from Visa U.S.A. Inc. and may be used everywhere Visa debit cards are accepted.