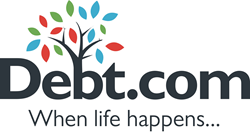 "When a budget and plan is in place, a clear path to better days is formed."
Fort Lauderdale, FL –
(PRWEB) January 13, 2016 -- Blue Monday is known as - the most depressing day of the year. It is a phenomenon where miserable conditions occur on or around the third week of January and include record low temperatures, failing unrealistic New Year's resolutions and the general slow down after the holidays. For most, the depressive state is also fueled by the arrival of post-holiday bank and credit card statements.
Experts at Debt.com discovered that Blue Monday exists because instead of prioritizing the immediate needs following the New Year, they choose to create new needs that they may not be ready to tackle.
"When a budget and plan is in place, a clear path to better days is formed. Completing goals in the order of urgency helps people to stay on the right track and supports a goal-oriented state of mind, then, people can begin to make realistic goals and resolution," says Howard Dvorkin, CPA and Chairman of Debt.com

PowerWallet is an online tool that makes budgeting simple. A detailed and organized view of all accounts, a place to monitor cash flow in real-time and a financial calendar to keep track of payments.
Financial Calculators to determine everything from mortgage payments, debt to income ratio and credit card payments.
Free easy to read PDF booklets on avoiding foreclosure, credit card management, maximizing your credit score, ID theft, DIY credit restoration.
A Student Loan Help Center that provides general information on student loans along with information on loan consolidation, deferment, forbearance and repayment options.
About Debt.com: Debt.com offers daily advice about money – how to make it, how to save it, and how to spend it. Debt.com also provides debt solutions and is partnered with other highly rated companies that provide services that can help with all sources of debt. Debt.com's staff consists of business journalists, financial experts and certified credit counselors. Combined, they have more than a century of experience in personal finance. Visit the website for more information.
When there is a consistency of progress and organization, the blue mood can rosy and Blue Monday suddenly doesn't feel so depressing – no matter what the temperature is outside.
Debt.com combines financial experts, business journalists and access to solution providers that have passed Debt.com's certification process. The site focuses on personal finance issues that many Americans face daily including credit card debt, paying student loans, tax debt, identity theft, debt collector harassment, credit report correction and much more. Debt.com is committed to helping consumers understand and master the confusing would of personal finance and help them improve their financial standing by recommending products and actions that are in their best interest.