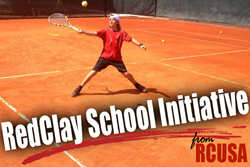 Slide on over and join the RedClay Club, and help promote the latest sport import from Europe.
Petoskey, Michigan (PRWEB) April 13, 2016
RCUSA and the new RedClayClub.com announce the first national school initiative and crowdfunding campaign to kick off their 5-year plan to assimilate European RedClay tennis into U.S. school systems: RedClay Tennis: Funding a Safer School Sport.
Crowdfunding will help introduce RedClay tennis into American schools as the "Best New Safe Sport" and easily adopted alternative to football.
Several Pilot-Project sites are listed in the Indiegogo crowdfunding campaign and will receive grants from campaign contributions to jumpstart the grass-roots effort to put RedClay tennis into school curriculums.
Slide on Over is the official campaign slogan.
"We're saying RedClay tennis has been very much in style around the world, and it's just in time and within the reach of any U.S. school now," says RCUSA CEO Brian Osterberg, "The new technology makes it very economical and practical."
Campaign Team Members, including Tennis-Force.com, Brandywine Tennis Club and SPOT Tennis, are asking everyone to join in the excitement of the next new European sport to come to America.
It is well known that clay courts generally make learning tennis easier, extends the sport throughout one's life, and with RedClay in particular, brings high-profile traditional European culture to America.
RCUSA considers it the safest new school sport that can entice kids and soccer moms since...soccer.
Osterberg says, "Pass the word, not the football: RedClay tennis is coming to America. And like soccer, RedClay tennis will find its way into American schools for kids and families. It works very well in Europe so it will work fine here because the inherent brutality of football continues to make more negative headlines. Tennis with our new court technology is a very simple answer to contact sports. Plus you can play with your grandparents because of the longevity RedClay tennis players enjoy."
RCUSA hopes the USTA considers their new RedClay court technology as a component for a future National 10 and Under type children's program.
The redclayclub.com looks to unite RedClay enthusiasts and players around the globe.
RedClay USA LLC is the exclusive distributor of Tennis Force® tennis courts. Tennis Force Intl. GmbH is the exclusive EU distributor. RCUSA's redclayclub.com is committed to increase tennis participation and enjoyment around the globe.