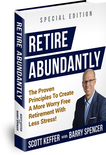 (PRWEB) January 12, 2016
The creators of Wealth With No Regrets® are hosting a newly updated for 2016 special briefing on tax reduction strategies and retirement income opportunities. This will inform the more than a quarter-million Americans who turn 65 every month about the latest tax saving strategies that can be used to help meet their retirement income needs.
Fewer companies are offering pensions that retirees can count on and Social Security benefits continue to be stressed by the overwhelming number of retirees taking and about to take their benefits. By 2030, 1 out of every 5 Americans will have celebrated their 65th birthday.
Roughly 1 out of 6 baby boomers now report that they are retired, up from 1 out of 10 as recently as 2010. This new generation of retirees is entering retirement without the security of a company pension and Social Security meeting all or most of their lifestyle needs.
The Social Security Administration reports that retired workers receiving Social Security benefits has more than tripled since 1970, from 13.3 million in 1970 to over 39 million in 2014. As a result, a growing number of retirees realize that they must now create their own sources of, secure retirement income, to meet their lifestyle needs.
Research shows the challenges of meeting retirement income needs are mounting for those heading into their post-work years. Previous generations could count on a company pension and Social Security benefits to meet their basic living expenses.
For the first time in this country retirees have to count on 401k, IRA, annuity and investment money as their primary sources of income in retirement to meet their basic living needs and wants.
Therefore, it's not surprising that retirees report that they often face unexpected fears and concerns as they enter retirement. The eight biggest fears include running out of money, the increasing burden of taxes, inflation, U.S. debt, health care costs, living too long, not passing on values in addition to money and being able to keep family unity by treating heirs fairly.
An AARP study reported that 2 out of 3 older Americans fear running out of money more than dying. Further research reveals that retiree concerns of running out of money is shared by the middle-class and even the upper-middle class. This points to the fear retirees having to one day depend on their children during retirement.
The fear of running out of money is not unfounded.
Major medical advances are lengthening the average life expectancy. On the surface, this is good news. However, the average life expectancy for a 65-year old male increased 40 percent from 1990 to 2002, according to the latest life expectancy data. This means there is a need to fund an additional 6 years of lifestyle.
It gets worse, as you live longer. Half the retirees are at risk of not being able to maintain their standard of living in retirement, according to CBS MarketWatch. The Wall Street Journal reported that 2 out of 3 retirees are not financially prepared to live into their 90's.
The increasing tax burden is equally disconcerting for retirees. The top 10 percent of income earners are paying a surprising 71 percent of the tax burden, up from less than 50 percent in 1980. With the deficit exceeding $18.2 trillion, the promise of lower tax rates in retirement seems like a pipe dream to most retirees.
In addition, running afoul of IRS retirement account rules can cost a bundle. An IRS report showed that in 2010, Americans paid $5.8 billion in penalties on retirement account withdrawals, in addition to the regular tax paid.
Taxes, retirement income, increasing expenses with aging are the big topics being addressed in this newly updated special briefing of 2016 from the creators of, Wealth With No Regrets®.
Using research, interviews and actual examples of failures and success, tax and retirement income specialists Barry H Spencer and Scott Noble have designed this free special briefing for retired and soon-to-be-retired executives, business owners, senior level leadership, professionals and women on their own with wealth.
For more resources and to find out more about the latest retirement special briefing visit, http://www.RetireAbundant.com