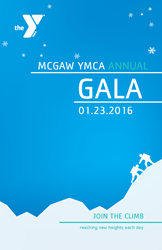 Evanston, IL (PRWEB) January 13, 2016
For the first time, anyone who wishes to support McGaw YMCA's transformational youth programs can participate in its annual silent auction! The auction, part of the McGaw YMCA Annual Gala held on Jan. 23, is now open to the public and offers myriad gifts and experiences, including a resort stay in Cabo San Lucas and an autographed PGA hat from Payne Stewart.
The Annual Gala is McGaw YMCA's premier fundraiser and provides essential support for its education and leadership programs for children of all ages. In the past, only Gala attendees could bid on silent auction items, but beginning today, even those unable attend the Gala can still support McGaw YMCA and bid on amazing items.
The full list of auction items can be viewed here, and bids can be placed once registered. Some other highlights include a Balenciaga handbag, a three night stay at a Saugatuck, MI beach house, and even a boat race to Mackinac Island. Of course, the easiest way to bid is to attend the Gala, but tickets are selling quickly. To purchase tickets, visit here.
The McGaw YMCA Annual Gala invites all supporters to "Join the Climb" by helping the organization continue to give children and youth the opportunities to reach new heights every day. For example, the Y Readers summer learning program closes the achievement gap among elementary school students; MetaMedia engages middle school students through youth-driven projects in technology, math, science, and the arts; Y Acheivers mentors high school students in college preparation, to name just a few of the many McGaw YMCA youth programs that support the development of children.
The Gala wouldn't be possible without the generous support of our many sponsors:
Mount Everest ($25,000): Northwestern University
K2 ($10,000) Make It Better Media, Grumman Butkus Inc.
Denali ($5,000): Mark A. Dennis, Jr., Hagerty Consulting
Mt. Kilimanjaro ($2,500): Lynn and Jay Ryan, Presence Saint Francis Hospital, Wellness Revolution, The Israelite Group, First Bank and Trust, BMO Harris Bank, Mark Vend Co.
Mt. Rainer ($1,000): Evanston Capital Management, The Owens Group, Chase, Accuity, Mike Truppa Communications, Temperance Beer, Second Baptist Church, Jeffery D. Kahla, Major General USAF (Ret.) and Joan Kahla, Alford Executive Search, Designs 4 Dignity.
For more information, contact Marcelina Tobar, McGaw YMCA Marketing and Events Specialist, at marcelinat(at)mcgawymca.org or 847-475-7400, ext. 215.
###
The McGaw YMCA (http://www.mcgawymca.org) is a cause-driven, charitable organization that seeks to strengthen community with a focus on youth development, healthy living, and social responsibility. Our programs for children and teens support them academically, emotionally, and socially. Through these programs, the McGaw YMCA has positively impacted the Evanston community for nearly 130 years.