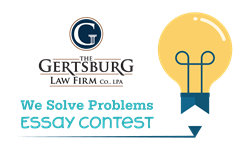 "Imagine the power of 1,500 high school students working on one problem: cyberbullying. There's a good chance a workable solution will arise." Alex Gertsburg, Gertsburg Law Firm
Cleveland, Ohio (PRWEB) January 14, 2016
This February, students at Chagrin Falls and Kenston high schools will put pen to paper to solve the issue of cyberbullying as part of the inaugural "We Solve Problems Essay Contest." Created by the Gertsburg Law Firm and The Chagrin Valley Chamber of Commerce, students' 600-word essays will be judged by business and government leaders, with Jeff Hoffman, co-founder of Priceline.com, serving as the final judge. Finalists will receive cash awards or scholarships and the school with the winning essay will be rewarded as well.
"Every day we work to solve our clients' problems," said Alex Gertsburg, head of the Gertsburg Law Firm. "As a firm, as a team, that is what drives us. It made me wonder what it would be like if a mass of people – let's say 1,500 people – worked together to solve one problem? Chances are – a workable solution will arise."
The contest demonstrates to students that, in business, it is not enough to have a great product or service if you cannot communicate its value. Similarly, great communicators are nothing in business without logical solutions to significant problems. "Our schools have great writers and thinkers," said Shannon Beach, Chagrin Falls English Department. "This contest gives them an opportunity to not only improve their skills in problem solving and written communications, but also engage with members of the business community."
"The Chamber is excited to partner with the Gertsburg Law Firm in this essay contest," said Molly Gebler, executive director, Chagrin Valley Chamber of Commerce. "We support the mentoring of young minds and look forward to being a participant in this unique process, where students are part of a solution that affects them every day. These same students will be our future business leaders and we are committed to having a continued presence with the students and helping them merge with local business leaders," continued Gebler.
Research shows that over half of adolescents and teens have been bullied online and about the same number have engaged in cyberbullying. "This is real life for our students," said Jeanette DiBernardo, Kenston English Department. "They are the ones in the thick of this issue and understand the impact of cyberbullying. Real change can come out of this experience."
The contest is open to high school students from Kenston High School and Chagrin Falls High School. Students can begin submitting essays on Feb. 15, 2016 with an entry deadline of Feb. 22, 2016. Winners will be announced in March 2016.
Additional information about the contest, including how to become a judge or sponsor, can be found at http://www.gertsburglaw.com/essay.html.
About the Gertsburg Law Firm
The Gertsburg Law Firm is changing the character of the attorney-client relationship in business from a cost-center to a trusted advisor. Led by award-winning attorneys with both in-house counsel and large firm complex litigation backgrounds, organizations gain access to business lawyers with real life business experience in a wide variety of industries. This results in a comprehensive and innovative approach to business law that is proactive and consultative, ultimately saving clients money in fees and exposure before issues arise. Located in Chagrin Falls, Ohio, the Gertsburg team of lawyers and support staff leverages their knowledge, broad experience and steadfast dedication to both solving and avoiding clients' business problems, and helping them actually grow their businesses in a way that no other law firm does. Stay up-to-date on news from the firm at its Facebook page https://www.facebook.com/gertsburglaw/
About the Chagrin Valley Chamber of Commerce
More than 400 members strong, the Chagrin Valley Chamber of Commerce offers an array of programs to help area business owners improve their bottom line. Serving 13 communities in the Chagrin Valley, the Chamber serves as a powerful regional force: encouraging business to relocate to the Chagrin Valley; presenting the interests of business and industry before local and state governments; supporting the cultural and civic life of the communities; and, working to make the Valley a better place to live and do business.