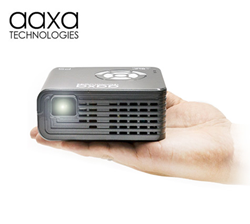 The AAXA P5 features a brilliant compact high efficiency HD resolution optical engine that delivers a max brightness of 300 Lumens. Mated to a 120 minute high-density Lithium Ion battery the P5 is a game changer in portable projection technology.
Tustin, CA (PRWEB) January 13, 2016
AAXA Technologies is pleased to offer the AAXA P5 Pico Projector - World's Smallest 300 Lumen Pico Projector
The AAXA P5 features a more compact high efficiency HD Resolution optical engine that delivers a max brightness of 300 Lumens. Mated to a 120 minute high-density Lithium Ion battery the P5 is a game changer in portable projection technology.
All-In-One Mobility Device
The AAXA P5 joins the mobile revolution as a complete all-in-one system for the discerning mobile professional fitting comfortably in a purse, briefcase, or laptop bag. At the heart of the diminutive system is a brilliant turbocharged optical engine that delivers 100" projected images (plugged in) and 60" projected images (on battery power). Together with a powerful onboard multi-media player the P5 is able to play high resolution pictures and videos directly from its micro SD and USB ports. When an external data source is necessary an array of inputs is available including HDMI, Composite, and VGA. With its onboard battery and quick start (no warm up), LEDs business professionals can easily and quickly deliver a group presentation without needing to fumble with cables, external devices, or to crowd around a notebook or tablet.
15,000 Hour LEDs
The AAXA P5 is powered by the latest solid-state LEDs. These high brightness light-emitting-diodes are robust in nature and are able to survive bumps, bangs, and scrapes much better than traditional mercury lamp based projectors. Lifespan is increased over lamp based projectors by greater than 6x, which means the P5 can operate for more than 5 years if used 8 hours a day, every day. Operating costs and power is further reduced with the P5 consuming one fifth (20%) the power of your typical lamp-based projector. Finally, LED light sources have no mercury content and are environmentally friendly.
Native HD Resolution
The AAXA P5 is powered by a state-of-the-art Texas Instruments DLP HD resolution imager that delivers 1280x800 of native resolution in a tiny form factor. Unlike many other projectors that achieve HD resolution with optical, pixel, or upscaling gimmicks, the P5 is a true native 1280x800 resolution projector and delivers HD content anytime, anywhere.
120 Minute Lithium Ion Battery
The P5 incorporates a premium grade, game changing 120 minute lithium ion battery able to withstand multiple charge-cycles with very little capacity reduction. The onboard lithium ion battery enables true anytime, anywhere projection.
Main Features
Battery Powered Pico Projector
Portable 100" screen (60" battery) that fits in the palm of your hand*
Long Life 15k Hour LEDs
HD Resolution
300 Lumens
120 Minute Battery Life (battery included)
Pricing
The AAXA P5 LED Pico Projector is available for sale at http://www.aaxatech.com for $339 and through our excellent retail partners.
AAXA Technologies Inc was founded in 2008 as a developer and manufacturer of a new class of projector known as "micro" projectors and "pico" projectors. AAXA's core technology is based on small LCoS (Liquid Crystal on Silicon) and DLP (Digital Light Processing) imagers mated to LED (light emitting diode) and Laser light-sources that makes micro projectors and pico sized projectors possible. In 2010 AAXA launched the world's first laser pico projector and today remains a leader in mini-projector technology. AAXA holds several patents in optical and LCoS designs and manufactures the majority of its products in China, with core technological development occurring in both the Silicon Valley, California and China.
**100" image size requires dark areas, DC power see gallery for more details