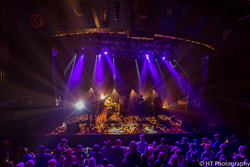 Representing the genre for a whole new generation
Fairfield, CT (PRWEB) January 12, 2016
Stratsophere All-stars, a collective of respected jam band musicians join together for one night in Connecticut on Sunday, January 31. The following night, Greensky Bluegrass brings their thrillingly dynamic live show to The Warehouse on Saturday, January 31.
Consisting of David Murphy (STS9), Steve Molitz (Particle), Marcus Rezak (Digital Tape Machine), Jeremy Salken (Big Gigantic), and local Hayley Jane (Hayley Jane & the Primates), the Stratosphere All-Stars bring a whirlwind of electronic jam music to The Warehouse at FTC as a part of their special 3-night tour on Saturday, January 30.
The all-star jam ensemble sold out their first-ever show in Brooklyn last March and have since brought energetic crowds together at Catskill Chill Music Festival and the inaugural Brooklyn Comes Alive this past September. Electronic trio Turbo Suit will support the Stratosphere All-Stars during this rare gathering.
While they have the qualities of a classic, Americana string band, Greensky Bluegrass extends much further to create a highly progressive sound. The group's ability to combine tradition with innovation, bringing together a set list of carefully prepared pieces and wonderfully improvised jams, makes them one of the most thrilling bluegrass groups of today. The dynamic group visits The Warehouse on Sunday, January 31.
Greensky Bluegrass is making their way through uncharted territory by reinventing already existing musical elements to create sounds unlike anything we've heard before. As said by Rolling Stone, the group is "representing the genre for a whole new generation." While they're fairly new to the scene, Greensky Bluegrass has already achieved great success. In 2007, the band won the Telluride Bluegrass Festival Band Competition, which earned them a spot on the main stage the following year.
Stratosphere All-Stars in The Warehouse at FTC
Saturday, January 30
Doors: 8PM, Show: 90PM
Tickets: $20 early bird, $25 GA
Greensky Bluegrass in the Warehouse at FTC
Sunday, Jan. 31
Doors: 7 p.m., Show: 8 p.m.
Tickets: $25 GA
Visit http://www.fairfieldtheatre.org for samples of the music and ticketing information.
About Fairfield Theatre Company:
The Fairfield Theatre Company is a nonprofit organization dedicated to a simple premise - that the broadest spectrum of live entertainment and cultural exchange is essential to the vitality of our society. We believe that our quality of life depends on opportunities to get out, and come together in public places to enjoy live music, art, theatre, film, all manners of creative and intellectual discourse, and to participate in these activities to the fullest. From our first season of plays in 2001 on the Fairfield University campus, to the opening of our StageOne venue in downtown Fairfield in 2004, The Warehouse in 2015, to a string of highly-acclaimed performances presented at The Klein Auditorium in Bridgeport and the Norwalk Concert Hall, FTC has evolved into the region's most energetic and productive performing arts organization.