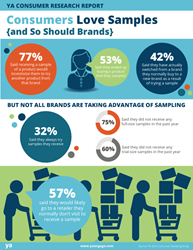 Minneapolis, MN (PRWEB) January 13, 2016
A recent study by YA, an industry market leader in delivering flawless omni-channel marketing promotions for the nation's most respected brands, shows that while consumers often change their buying behavior after receiving product samples, sampling is an under-utilized promotion channel.
In a proprietary YA survey of more than 1,000 adult Americans, more than half (53 percent) said they often or always end up buying a product that they sampled.
In addition, more than three quarters (77 percent) said receiving a sample of a product would incentivize them to try another product from that brand and 42 percent said they often or always switch from a brand they normally buy to a new brand as a result of trying a sample.
However, despite the results that show sampling builds brand and product affinity, the study also shows that most consumers are not being offered samples. Sixty percent said they did not receive any trial-size samples in the past year, and 75 percent said they did not receive any full-size samples.
"Companies in areas such as consumer packaged goods (CPG) that don't build sampling into their marketing promotions programs are missing a huge opportunity," said YA President and CEO Chris Behrens. "In today's digital world, it's not just about getting one product into the hands of a consumer, it's about building an ongoing relationship with that consumer who may switch to your brand and then convince others to do the same."
A growing trend is to offer ways for consumers to try products, but minimize the packaging and mailing costs that are associated with traditional sampling programs, by leveraging an already available delivery channel—the retail partner.
"Instead of having to manufacture and deliver special sample sizes, which can be cumbersome and costly, we are increasingly working with clients' merchandise programs that allow consumers to acquire a specific product," he said. "These promotions are targeted, trackable and consumer-friendly."
YA's patent-pending card sampling technology features detailed reporting on who, when and where a consumer takes advantage of an offer.
"Knowing which consumers tried your product vs. throwing it in the trash offers a significant opportunity for brands," added Behrens. "This is extremely valuable information that can be used for future communication and engagement with the consumer. For example, when consumers redeem the offer, we can follow up by giving them another offer to keep them interested in a brand or a particular retailer."
The survey found that sampling is also a boon for retailers, as 57 percent of respondents said they would likely go to a retailer they normally don't visit to acquire the designated product.
"Sampling makes it easy for CPG companies and retailers to work together to drive store traffic and increase sales," said Behrens. "In addition, this approach proves to be a cost-effective way for brands to get their products in the hands of consumer and capture valuable consumer data. It provides a solid return on marketing investment."
About the survey
Survata conducted the survey of 1,000 Americans on behalf of YA October 2015.
More information can be found on the company's website: http://www.yaengage.com.
About YA
For more than 40 years, YA has been a leader in the promotional marketing services space. We deliver flawless digital, social, mobile and traditional promotions such as rebates/rewards, enter to win and loyalty programs for the nation's most respected brands. Our end-to-end management of 3,500+ promotions that reach tens of millions of consumers annually makes us experts at turning even first-time customers into loyal brand advocates.