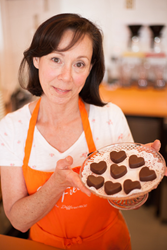 I feel privileged that we can share our products with customers nation wide and honored that they place their complete trust and confidence in us...
Murrieta, CA (PRWEB) January 13, 2016
Snackin' Free, a Murrieta, California based bakery cafe, offering nutritional eat-in or on-the go-food options, free of gluten, grain, dairy, soy, peanuts, yeast, and artificial ingredients, is now offering their products to consumers nationwide.
For Laura Savinovich, the brand's founder and chef, making the switch to a restrictive diet was difficult, but ultimately achievable. Now her goal is to bring her artisanal made foods and baked goods to consumers who have found it hard to find foods that are not only nutritional but taste good as well.
Savinovich turned to the Paleo lifestyle as a way to help with the fatigue, pain, and weight gain associated with her Rheumatoid Arthritis. Finding relief through her new diet, but a lack of viable food options on the market, she decided to fill the niche herself and to share her own experience and the knowledge gained with others making it easier for them to succeed on their journeys toward health while still being able to enjoy those foods people all crave and love.
Savinovich said that even the most unsuspecting things like soy sauce, taco season, candy and even make up, lotions and soaps can contain gluten, grains, soy and/ or refined sugars.
Savinovich launched her business in 2012 under the newly instated California Cottage Food industry licensing program. She soon outgrew her home's kitchen and expanded into a commercial space, and is now turning to an online marketplace to meet the growing demands for her products.
"I feel privileged that we can share our products with customers nation wide and honored that they place their complete trust and confidence in us knowing that everything we make is made in a completely dedicated Kitchen and that the quality and taste will always be their best, said Savinovich."
At Snackin' Free they pair low glycemic sweeteners with high fiber flours and nut meals to create an array of foods including paleo breads, tortillas, pizzas, and sandwiches, barbecue sauce and salad dressings, as well as cupcakes, cookies and various other baked goods, cereals and more all made in a completely dedicated facility by team members whose own dietary restrictions have made them devotees to the brand's quest for great taste with simplicity and honesty.
"I don't advocate that eating certain foods will cure any illness but rather eating certain foods can improve one's health," said Savinovich. "I am living proof that it can impact your life in a positive way."
Snackin' Free's products can be purchased online at snackinfree.com or at its brick and mortar location in Old Town Murrieta, where it provides the community with fresh food daily.
About Veteran PR:
Rooted in the belief that hard work coupled with honesty and integrity is the key to any success, Veteran PR strives to help companies build their brand awareness through strategic and effective Public Relations Campaigns and Social Media Marketing Efforts. Veteran PR launched in 2015 after military veteran, Staff Sergeant Jason Thomas, teamed up with his wife and seasoned PR professional, Nicki Thomas. Together their vision is to help small businesses, especially veteran owned businesses, build their brand awareness with a PR Company business owners can trust.