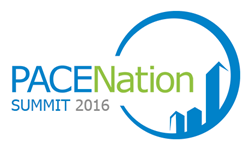 "We are planning an event that will feature top thought leaders and provide hours of networking opportunities for all." - David Gabrielson, Executive Director, PACENow
Pleasantville, NY (PRWEB) January 13, 2016
PACENation has announced that it will hold the First Annual PACENation Summit February 29th through March 2nd in Denver, CO at the Sheraton Denver Downtown Hotel. The event will mark the first-ever national summit dedicated to building the Property Assessed Clean Energy ("PACE") market, and will bring together legislators, PACE program administrators, financiers, and others to network and share best practices in over 20 informational sessions and interactive workshops.
David Gabrielson, Executive Director of PACENow, said "We are planning an event that will feature top thought leaders and provide hours of networking opportunities for all. Throughout the event, participants will share best practices and identify opportunities for market growth."
Individuals can register via the PACENation Summit homepage (pacenation.us/summit), where additional information is available, including the full agenda. Early Bird registration ends January 15th for a discounted price.
To develop the Summit's agenda, PACENation worked with a Steering Committee (pacenation.us/steering-and-host-committees) of PACE market practitioners from the public and private sectors.
The PACENation Summit Agenda (pacenation.us/agenda) includes the following sessions and workshops:

C-PACE Project Development Workshop: Industry leaders discuss project development best practices from sourcing a project to financial closing and commissioning.
Lender Consent Learning Session: Learn top strategies for obtaining timely lender consent for your project.
State of the Residential PACE Market Session: Hear directly from market leaders about the current state of residential PACE and their vision for the future of the industry.
Lease Accounting and PACE Session: A detailed analysis of the economics of PACE financing under various lease forms, and how to present the numbers to reflect lease economics.
Additional learning session and workshop topics include: C-PACE: 5 Keys to Success, PACE and Hotels, PACE and Solar, True Cost of PACE Capital, Technology Platforms and more.
John Kinney, Founder and Executive Chairman of CleanFund Commercial PACE Capital, said "We believe the PACENation Summit will be a must-attend event of the year and we are proud to be Platinum Sponsor."
With residential and commercial PACE investments now over $1 billion, it is an important time for PACE market leaders to learn from each other's successes. Jeffrey Tannenbaum, Founder and President of the Board of PACENow, noted "PACE is gaining tremendous momentum across the nation. Bringing PACE practitioners together for the first national summit is another step toward establishing PACE as a major financing tool for retrofitting our nation's building stock."
To register, please visit PACENation's Summit homepage (pacenation.us/summit).
About PACENow:
PACENow is a non-profit foundation funded advocate for Property Assessed Clean Energy (PACE) financing. PACENow's mission is to promote improved energy efficiency in buildings and use of PACE. Our strategy is to be a trusted source for information and resources to a growing coalition of PACE stakeholders that includes local governments, businesses, industry service providers, labor and trade organizations, environmental groups and private individuals nationwide.