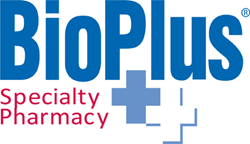 Altamonte Springs, FL (PRWEB) January 13, 2016
BioPlus Specialty Pharmacy (BioPlus), one of the nation's leading innovative specialty pharmacies, continues to expand in terms of both additional therapies and by opening multi-state locations. To support the company's ongoing growth, BioPlus announces the promotions of Bill Cook to the newly created position of Executive Vice President of Sales and Barbara Weller to the new position of Senior Vice President of Finance. Both of these employees already serve on the BioPlus executive team.
"The addition of both these positions at the company, plus the internal promotion to fill them with our highly-qualified employees, will support our ongoing and future growth," explains Stephen Vogt, Pharm.D., CEO and President of BioPlus. "Both Bill and Barb have proven themselves time and again to live out our core values as a specialty pharmacy; we're fortunate to have them on our team."
In the new position of Senior Vice President of Finance, Weller will manage the company's financial and accounting policies and prepare the annual corporate budget, including sales and revenue forecasts, along with capital and expense forecasting. In addition, she is also responsible for the delivery of cost effective and efficient accounting and financial systems, while overseeing the development of policies and processes that meet the current and future business requirements of BioPlus.
Weller has been with BioPlus since 1991, when she was first hired as the primary accountant and over the following years she has seamlessly added responsibilities as the company grew. Her most recent previous position was as Vice President of Finance.
Cook joined BioPlus in 2011 and since then he has served in several capacities, including most recently as Vice President of Sales. His new position and title change reflects his integral role in overseeing the growing sales team at BioPlus. Cook brings nearly 30 years of healthcare sales executive experience to his newest role at BioPlus.
About BioPlus Specialty Pharmacy
BioPlus Specialty Pharmacy is the first specialty pharmacy to introduce a two-hour turnaround from referral to patient acceptance. BioPlus... Where healing begins in 2 hours. Our company celebrates 26 years of innovative excellence in specialty pharmacy, working closely with payers and the pharmaceutical industry, as well as with prescribers to get prompt treatment for patients, and directly supporting our patients nationwide to achieve optimal health outcomes. Our proprietary web tool Tap App, connects prescribers to the pharmacy by bringing the pharmacy chart into the doctor's office with real-time specialty pharmacy information and treatment monitoring.
BioPlus provides a complete range of specialty services, including for hepatitis C, multiple sclerosis, cancer, bleeding disorders, and other complex, chronic conditions. BioPlus, a privately-held, pharmacist-owned company based in Altamonte Springs, Florida, is accredited by URAC, VIPPS, and the Accreditation Commission for Health Care (ACHC).
For information: http://www.bioplusrx.com or
Contact: info(at)bioplusrx(dot)com
Phone: 1-888-292-0744
###