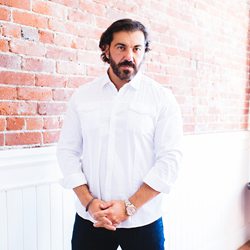 John will be teaching attendees how to raise the bar and become the elite fat loss expert in their area
Irvine, Calif. (PRWEB) January 18, 2016
Bedros Keuilian, creator of PTPower and founder of the popular Fit Body Boot Camp franchise, presents the 2016 Fitness Business Summit taking place March 18-20, 2016 in Irvine, California. Dr. John Berardi, founder of Precision Nutrition, will be giving a seminar on fat loss and how to become the leading expert in it in your market.
Next year's event is set to be the largest in the series, with multiple fitness business experts giving coaching talks to boot camp owners, personal trainers, fitness professionals and coaches on marketing techniques and how to succeed in the industry. The event will be niche market friendly and is open to those that are new to the industry as well as veterans.
Dr. John Berardi is a fitness and fat loss expert who regularly coaches others and speaks at events about what he's learned in building his own company. He is also an athlete, writer and researcher on top of being a professor at two different universities.
"Founder of Precision Nutrition and one of the greatest minds in fitness and fat loss nutrition, as it so happens, he's also a fantastic businessman and one of the key influences in our industry," says Bedros. "John will be teaching attendees how to raise the bar and become the elite fat loss expert in their area and teaching lessons he's learned building Precision Nutrition into a 20 million dollar business."
Berardi has devoted his life to makes fitness and a healthy lifestyle something that can be achievable by every type of person in any circumstance. He believes that it is every person's right to have a fit and healthy life. Dr. John and his research team regularly give coaching talks and mentor others through research, coaching groups and education courses.
With a belief that fitness should be accessible to everyone, Berardi offers professional certification to health and fitness professionals how to use the latest in nutrition knowledge in their own practices. Through this research and education Dr. John hopes to spread knowledge of the most effective and accessible forms of health and fitness to more locations and change the lives of more patients and clients across the globe.
Fitness Business Summit takes place March 18-20, 2016 in Irvine, California. Attendees are encouraged to wear fitness casual and comfortable clothing during the main event and bring cocktail party attire for the networking party. To learn more about the event, visit the official website: http://fitnessbusinesssummit.com/
About PTPower:
To find out more about Bedros Keuilian, his company PTPower.com and the fitness boot camp franchise, Fit Body Boot Camp, contact Bedros Keuilian at (800) 261-0208. Alternatively, you may use the contact form at http://ptpower.com/contact-me/ or send an email to Bedros Keuilian at support(at)keuilian(dot)com.