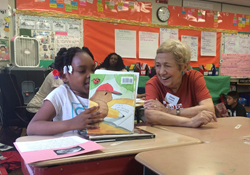 Evanston, IL (PRWEB) January 14, 2016
More than three months gained. That's the average improvement achieved by young students who participated in last summer's free Y Readers program, according to data results recently released to the Evanston/Skokie School District 65.
Y Readers, which was modeled after a highly successful program by the YMCA of Greater Charlotte, began four years ago as a partnership with D65. This six-week summer program, designed to prevent summer learning loss and close the achievement gap for children entering 1st through 3rd grades, served a record 187 students who were reading below grade level.
"At the request of the District 65 board, we were able to serve more children and double the program capacity," said Kaleena Escallier Slusser, Senior Director in McGaw YMCA Children's Center. "This was all in response to community and district needs."
In the past, Y Readers served children reading at the 30-50th percentile, but last summer added those scoring in the 0-30th percentile. Even with this more diverse population of learners, Y Readers participants showed a gain of 3.4 months when tested at the program. At some locations, such as Washington Elementary, the gain was as high as five months.
The Y Readers program was held at four Evanston locations – Dawes, Oakton, and Washington elementary schools, as well as the Foster Reading Center – but included elementary students from 11 district schools. Certified D-65 teachers provided intensive literary instruction, and weekly enrichment activities included field trips, music and art activities, and weekly swim lessons. More than 70 community volunteer "Reading Buddies" visited weekly to hear and share stories with the students.
Caregivers participated as well through an orientation and three family nights. Caregivers were overwhelmingly positive about their child's experience in Y Readers, with 97 percent stating that their child read more often and had a more positive attitude towards school. One hundred percent of caregivers said Y Readers was an enjoyable, positive, and safe experience for their child, and they felt more engaged in their child's education.
###
The McGaw YMCA (http://www.mcgawymca.org) is a cause-driven, charitable organization that seeks to strengthen community with a focus on youth development, healthy living, and social responsibility. Our programs for children and teens support them academically, emotionally, and socially. Through these programs, the McGaw YMCA has positively impacted the Evanston community for nearly 130 years.