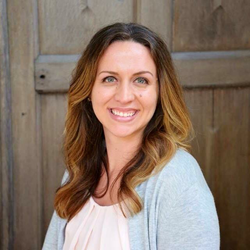 La Palma, CA (PRWEB) January 14, 2016
FutureSense is thrilled to welcome Megan Stiegelmar!
Stiegelmar joined the FutureSense team in January of 2016 as a consultant specializing in the area of compensation. She is interested in a range of topics including compensation, performance management, database management, and system administration, reverse mentoring, and communications.
Stiegelmar is an outstanding addition to FutureSense, which specializes in human capital workforce planning, leadership development, executive coaching, talent management, compensation, cultural change initiatives and employee relations. Stiegelmar will certainly be an integral force amongst a team of innovators.
Stiegelmar joins the FutureSense team from City of Hope National Medical Center, where she worked in Compensation for three years. Her role at City of Hope was heavily focused on administering the annual merit processes for 4,500 employees including union and non-union employees. In partnering with Organizational Development performance management team, the process for non-union employees improved and was streamlined. As systems and HR efforts were streamlined her role evolved into administering compensation related databases including building a relationship with vendors Cornerstone OnDemand talent management system and MarketPay Online Pricing System.
Stiegelmar earned a Bachelors degree in Business Administration with an emphasis in Human Resources from California Polytechnic University, Pomona, California. With an emphasis in Human Resources, each course was focused on a HR function, which developed a thorough understanding of each piece that makes up the employee lifecycle. While studying at Cal Poly, Stiegelmar spent three months in London, England interning at a public relations firm. This experience led to many opportunities that have contributed to her career thus far.
Stiegelmar currently lives in Huntington Beach, California. During her free time, she enjoys spending time with her family, traveling, and enjoying downtime at the beach. Stiegelmar is confident that her analytical tactics coupled with her strategic mindset will serve as a valuable asset for future clients.