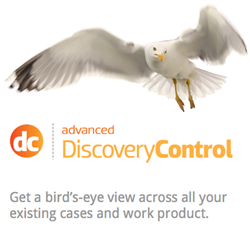 DiscoveryControl gives counsel an easy way to gain precise and accurate insight into how attorneys treated the same documents in similar cases.
Austin, Texas (PRWEB) January 13, 2016
Advanced Discovery today announced the availability of its latest offering, DiscoveryControl, for use with Relativity workspaces. This technology gives users insight into legal work they can potentially reuse in multiple matters to lower eDiscovery costs and drive document review efficiency.
"Corporate clients told us they wanted a way to lower legal costs by reusing their attorney's work product," said Shimmy Messing, chief technology officer at Advanced Discovery. "DiscoveryControl gives counsel an easy way to gain precise and accurate insight into how attorneys treated the same documents in similar cases. Privilege review is a good place to start. If a document is a privileged communication between an attorney and client in one matter, it very likely is privileged, period. Additional legal review shouldn't be necessary in most cases."
General Counsel in large corporations who face serial litigation and investigations are constantly searching for ways to better manage eDiscovery costs. Most lament that they frequently pay their attorneys to review the same documents that appear in multiple cases. Until now, law departments lacked accurate visibility into attorney work product across all their cases, preventing them from evaluating potential reuse of this legal work.
DiscoveryControl forever breaks this cycle by pulling work product for millions of documents, from cases in individual Relativity workspaces, into a single control room. Dashboards and reports give legal teams visibility into key metrics and legal coding of identical documents used in similar cases. Clients can quickly see privilege and responsiveness tagging, for example, along with lawyer comments, redactions, the number of documents culled, and the number promoted to expensive full review and production.
DiscoveryControl provides several efficiency and cost savings capabilities:

Search across multiple cases with the power of SearchMagnifier
Reuse work product and redactions across cases to lower cost and boost review efficiency
Seed new cases with pre-existing tags and comments for substantial review savings
Receive alerts when a tagging conflict arises
Use name normalization across related cases to save time when creating privilege logs
View automated, up-to-date reports across workspaces
Sync work product across multiple cases
Add any case to control room for reporting
Reduce risk by using past matters to predict or estimate upcoming caseloads
General Counsel can use this information to avoid paying lawyers to review and tag the same documents and give review teams a leg up on new cases with prior attorney impressions and decisions. In addition, law departments and their law firms can mine electronically stored information (ESI) in the control room to estimate costs and devise strategies for future cases.
DiscoveryControl is immediately available to save clients' time and money and will be demonstrated, along with the rest of Advanced Discovery's suite of technologies, at Legaltech New York, February 2-4, 2016. Press here to sign up for a demo while at Legaltech. Online demonstrations are available upon request.
About Advanced Discovery
Advanced Discovery is an award-winning, end-to-end eDiscovery services and software provider, supporting law firms and corporations since 2002. Advanced Discovery offers project planning and budgeting, data preservation and forensic collection, early case assessment, hosted review, managed document review and more from its numerous state-of-the-art facilities across the country. The company employs leading professionals in the industry, applies defensible workflows and provides industry-proven technology across all aspects of the eDiscovery life cycle. This devotion to excellence has earned Advanced Discovery inclusion on the Inc. 5000 list of fastest growing companies in the US four consecutive years and recognition as a top provider by Legal Times, Texas' Best and other publications. More information is available at http://www.advanceddiscovery.com.
###
For more information contact:
Website: http://www.advanceddiscovery.com
Company: Advanced Discovery
Contact Name: Glenda Hoffman
Email: ghoffman(at)advanceddiscovery(dot)com