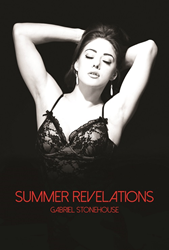 (PRWEB) January 19, 2016
"Summer Revelations" is a thoughtful and seductive read, full of passion and intrigue. Stonehouse expertly crafts a story which will thrill readers and provide a relatable account of the frustrations and temptations that come from midlife discontentment. It tastefully draws a balance between sexual fantasy and real life emotional struggles. Readers may find themselves highly sympathetic to such feelings, and come to find parallels in their own lives. Some may even find inspiration to enhance their own sexual encounters.
Readers who wish to experience this sensuous and stylish work can purchase "Summer Revelations" as an e-book or paperback from Amazaon or Barnes and Noble.
The author can be contacted at gabriel.stonehouse(at)gmail(dot)com.