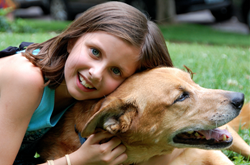 Pet Friendly Cities in Florida
Vero Beach, Florida (PRWEB) January 13, 2016
Pet lovers looking for the perfect winter getaway are invited to the sunny and dog friendly city of Vero Beach, Florida. Real Estate Scorecard is thrilled about the heartwarming event coming up this weekend sponsored by the Humane Society of Vero Beach and Indian River County to raise funds to continue their rescue efforts in the area. "Bark in the Park" will take place on Saturday, January 16, 2016 from 10am to 4pm and is an ideal time of the year to escape harsh weather and enjoy the many amenities found in Vero Beach, one of the best Florida retirement cities. It's also a great time to explore Vero Beach luxury homes scattered throughout this beautiful historic city.
The fundraiser draws over 6,000 pet lovers and will feature over 1,000 dog owners promenading their 4-legged friends around the award winning 26 acre Riverside Park which is located at 350 Dahlia Lane in Vero Beach. Even folks without pets enjoy the many activities found at "Bark in the Park" including performances by The Disc-Connected World Famous Frisbee Dogs, agility and lure courses designed for canines and a Kid's Zone making this a family friendly event. Hopeful dogs will also be available for adoption and this is a great time to help the Humane Society in their heroic efforts supporting and caring for these homeless pets.
The Opening Ceremony begins at 10pm and will be followed by the Pet Parade which will showcase owners and their dogs circling Riverside Park as they walk to raise money for this worthwhile cause. The event is seeking Sponsors of varying levels ranging from $250 to $5000. There is also the "Corporate Rack" (team) available for companies wanting to show their support. Corporations who participate can have their team wear branded t-shirts, a group photo and goodies the day of the event. Sponsorship applications as well as tax-deductible donations can be made at the "Bark in the Park" website.
Here is a list of festivities planed for the day's event:
10:00 a.m. - 4:00 p.m. Kids Zone, Lure Course, Agility Course
10:30 a.m. - 11:00 a.m. Opening Ceremony followed by The Dog Parade
11:00 a.m. - The Disc-Connected K9's World Famous Frisbee Dogs
11:00 a.m. - 2:00 p.m. Balloon Twister - Michael Van Ness
12:55 p.m. - Awards Ceremony
1:00 p.m. - The Disc-Connected K9's World Famous Frisbee Dogs
2:00 p.m. - 2:45 p.m. Sheriff's K-9 Demonstration
3:00 p.m. - The Disc-Connected K9's World Famous Frisbee Dog
Owning a pet during retirement years has some substantial physical and emotional benefits for seniors. Companionship and "unconditional love" top the list followed by reduced stress, regular exercise walking furry friends and an enhanced overall sense of well-being. It has also been found that pet ownership can reduce loneliness, depression, anxiety and may even help lower blood pressure. Research has shown that even stroking an animal can lower blood pressure as a part of the relaxation response in humans. Folks seeking a new pet should check out "Bark in the Park" and meet the loving dogs needing a place to call home. Vero Beach is one of Florida's dog friendly cities and is an easy place to meet like minded dog lovers.
Vero Beach is part of Florida's "Treasure Coast" nicknamed for the abundance of gold coins and collectible heirlooms that were left in the waters off the shoreline when Spanish ships travelling in the region capsized during hurricanes in the 17th and 18th centuries. Treasure hunting is still popular on the beaches that decorate the region. There are 3 main public beaches to entertain visitors and residents; South Beach, Humiston Park and Joyce Park. Vero Beach is located in Indian River Country which is Florida's 6th wealthiest county and is ranked amongst the top 100 affluent communities in the US.
New neighborhoods are popping up featuring attractive Vero Beach luxury homes which feature award winning golf courses, waterfront estates along the Indian River and for boaters, there are deepwater marinas including the Vero Beach City Marina on the Intracoastal Waterway at ICW 139. With average winter temperatures in the mid 60's, active Baby Boomers are headed south to enjoy outdoor activities year round. According to the 2010 Census Bureau data, the city had a population of 15,200 and has continued prosperous growth due to the scenic environment, sunny beaches and favorable weather found here.
The upbeat lifestyle found in Vero Beach is contagious and residents and visitors can enjoy a variety of activities throughout the year. Staying healthy is easy as there are 2 ocean front parks, plenty of walking trails, first class oceanfront resorts, an old fashioned boardwalk for evening strolls, beaches to enjoy and fishing all year long. Indian River County has 26 miles of oceanfront shoreline with public access trails and beach walkways at Riomar Beach, Sea Cove, Sea Grape Trail, Sexton Plaza and Turtle Trail for the convenience of beach goers seeking to curl their toes in the sand. There are also unique boutiques, over 200 restaurants, shopping malls featuring major department stores and year round golfing which makes Vero Beach one of the best Florida retirement cities.
January is the a beautiful time pack up the family and pets for an awesome retreat by attending the "Bark in the Park' fundraiser at the dog friendly city of Vero Beach and see what this beach town can offer at retirement. While visiting the Treasure Coast, take the time to support the efforts of the Humane Society of Vero Beach and Indian River County. Folks might find a next four-legged best friend.
About Real Estate Scorecard:
Real Estate Scorecard writes unbiased real estate reviews providing in-depth information about popular gated communities in Florida, Georgia, the Carolinas, Tennessee and Central America, all in an effort to help people discover where to retire in the South.
Website: http://realestatescorecard.com