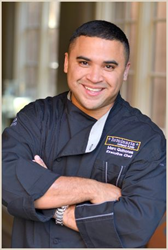 I can't wait for America to watch how it all goes down - Marc Quinones, Executive Chef Luminaria Restaurant
Santa Fe, New Mexico (PRWEB) January 13, 2016
Santa Fe's award-winning Inn and Spa at Loretto, A Destination Hotel, is proud to announce its Executive Chef, Marc Quiñones, has been invited to compete on the Food Network's Cutthroat Kitchen. The episode, titled Showdown at the Croquet Corral, will air Sunday, January 17, 2016 at 10/9 pm Central Standard Time.
The show features four chefs competing against each other with specific meals they must prepare after they are given a set amount of money to use to their advantage or to sabotage their opponents. Chef Quiñones will first be required to use his chef skills and strategy by having to play croquet while making croquettes. If he makes it out of the first round he will then have a sumo showdown as he makes Yakitori, and if he makes it to the final round, ride a banana boat while making Bananas Foster.
"I can't wait for America to watch how it all goes down," said Chef Quiñones. "This was a life altering experience in that I was able to compete on a national stage against some of the top chefs in the industry."
"Chef Quiñones is ever evolving and developing as a chef," said Tom McCann, General Manager at the Inn and Spa at Loretto. "We are excited to see him compete on the Food Network and be able to display his many talents."
The Inn and Spa at Loretto will be hosting a viewing party with Chef Quiñones.
Date: Sunday, January 17, 2016
Time: 8:00 – 9:00pm MST
Location: Living Room
Food and Beverage: Food corresponding with the shows themes will be served during commercial breaks. Living Room menu available. Cash bar and drink specials.
 Born and raised in the South Bronx, Quiñones has been the Executive Chef at Luminaria at the Inn and Spa at Loretto for two years. Prior to that he was at Bien Shur in Albuquerque and won Albuquerque THE Magazine's title of "Best Chef in the City" in 2012 and 2013 as well as winning Grand Champion at the Souper Bowl in 2013. In addition, Quiñones won the 2014 Chef's Knockout titles of Critic's Choice, People's Choice and Best in Show. Quiñones staged for Chef John Besh at his signature restaurant, August, in New Orleans and has been selected for inclusion in the inaugural edition of Best Chefs America. One of his career highlights was cooking for the President George W. Bush aboard Air Force One. Quiñones attended culinary school at Le Cordon Bleu in Scottsdale where he graduated with a 4.0 and became a member of Les Amis d'Escoffier Society of New York. He has cooked in Hawaii, Arizona and Napa, Calif. before coming to NM.
For press inquiries, contact:
Marissa Yniguez
JLH Media
520 873 7977
marissa(at)jlhmedia.com
###
About the Inn and Spa at Loretto, A Destination Hotel
The inn and Spa at Loretto, an award winning, AAA Four Diamond hotel, is ideally located in the heart of Santa Fe, steps from the Canyon Road galleries and just one block from historic Santa Fe Plaza's galleries, museums, and boutiques. Eloquently blending old-world charm with world-class splendor, the exquisite Inn and Spa at Loretto reflects the culture and sophistication of its historic Santa Fe location. The hotel features 136 guestrooms, a full-service spa, casual modern dining, three art galleries and a tranquil garden. Enjoy Luminaria Restaurant and Patio for three meals daily, The Living Room for happy hour, late night dining and live music and the Spa at Loretto for holistic and complete indulgence experience.
About Destination Hotels
Destination Hotels (Destination) is a collection of luxury and upscale independent hotels, resorts and residences across the United States. Offering authentically immersed and enriching experiences, each property is individual at heart, yet connected by a commitment to drawing upon the best of each location. Highly distinct, the Destination experience is always memorable and matchless; guests will feel the locale in a genuine way through each property and during the engaging moments cultivated both in and outside of them. Continuously growing with more than 40 properties from coast to coast, the award-winning portfolio features 20 renowned golf courses, 19 indigenous spas, and 130 exceptional bars and restaurants. Destination Hotels are true to our place; diverse by design. For more information, visit http://www.destinationhotels.com. Follow us on Twitter: @Destination. Like us on Facebook: DestinationHotels.