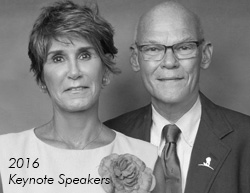 Clive, IA (PRWEB) January 13, 2016
Attendees of the Ninth Annual Land Investment Expo, presented by Peoples Company, will engage in a broad scope of thoughtful insight, cutting-edge ideas and contrarian thinking about land investment in 2016. This information is offered through the incredibly dynamic speaker lineup scheduled for the one-day conference. This format is one in which attendees have come to expect and that keeps them coming back year after year.
Headlining as the keynote speaker for this year's event is Mary Matalin, one of the most celebrated and popular conservative voices in the United States. She has served under President Ronald Reagan, as President George H.W. Bush's campaign director, as assistant to President George W. Bush and as assistant and counselor to Vice President Dick Cheney. With her to deliver the keynote will be her husband, James Carville, an American political commentator. Carville was a lead strategist for President Bill Clinton's successful presidential campaign, was co-host of CNN's Crossfire, has appeared on CNN's The Situation Room and hosted XM Radio's 60/20 Sports. He currently teaches political science at Tulane University and serves as a contributor to Fox News Channel.
The expo features an exciting array of expert speakers, 10 educational breakout sessions and 20 relevant tradeshow exhibitors, including:

Mark Dotzour, Chief Economist at Texas A&M University, will provide his outlook on the U.S. real estate market and state of the economy.
Dennis Gartman, The Gartman Letter, will cover both the domestic and world economy and will revisit his predictions from last year's event.
Rob Saik, Agri-Trend Group CEO, will kick off the day with his energetic challenge of conventional thinking about GMOs.
Ben Zaitz, Ben Zaitz and Sons, will share his experiences and challenges as an American cannabis farmer.
Dr. Bruce J. Sherrick, Professor of Land Economics at the University of Illinois, will share some of his research on risk analysis, crop insurance evaluation and the modeling of agricultural finance institutions.
Ken Root, Iowa Agribusiness Radio Network, Ken will once again challenge, provoke and entertain as he moderates the event.
Scheduled for January 29, 2016, more than 650 attendees, speakers, sponsors and media will converge at the West Des Moines Sheraton for an exciting day of learning, discussing, debating and networking. Attendees include farmers, business owners, academics, REITs, land developers, hedge funds, pension funds, endowments, family offices, bankers, policy experts, real estate professionals and others from across the country.
Registration is open and space is limited. For more information about the expo and to reserve your spot at this one-of-a-kind ag conference in the heart of American agriculture, visit http://www.LandInvestmentExpo.com.
About Peoples Company
Peoples Company is a leading agricultural real estate brokerage and land auction company specializing in land management, land appraisal and land investing services offered in nine Midwest states. Based in Clive, Iowa, the company's 70-person team has established key relationships with major institutional investors in the land investment space and has access to hedge funds, pension plans and private land funds in the land investment space. The cornerstone of Peoples Company's aggressive marketing efforts is the annual Land Investment Expo, which attracts more than 650 attendees to the heart of ag country each January. Peoples Company is licensed to sell real estate in Iowa, Missouri, Illinois, Minnesota, Nebraska, Montana, North Dakota and South Dakota. For more information, visit http://www.PeoplesCompany.com or call (800) 855-5263.
For more information, please contact:
Becky Rozenboom, executive director, Peoples Company
(800) 855-5263 or Becky(at)PeoplesCompany(dot)com