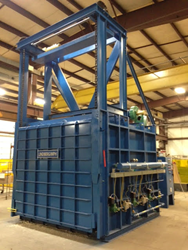 At Lindberg/MPH we always want our equipment to provide our customers with high quality part results. For this project the heat treating system needed to provide uniformity in both the heating chamber and the quench tank for optimal part results.
Riverside, MI (PRWEB) January 14, 2016
Lindberg/MPH announced the shipment of a heat treating equipment solution that included a high heat gas fired box furnace, water quench tank, and a gas fired temper box furnace to a leader in pump manufacturing. This heat treating system was integrated into the customer's new facility which also houses numerous other post processing equipment.
Each piece of the heat treat equipment was built with plate construction and structural steel members suitable for an industrial environment. The gas fired high heat box furnace utilizes cross firing burners to evenly distribute heat to the workload. The furnace chamber is lined with ceramic fiber modules which allow for fast heat up and recovery times while providing maximum fuel efficiency. The water quench tank utilizes multiple agitators and draft tubes to uniformly cool the customer's workload. The system controls include programmable recipe control.
Unique features of this heat treating system include:

Rugged steel plate construction
Ceramic fiber module lining for quick heat up and low heat storage
Cast pier hearth
High velocity cross-firing burners
Programmable temperature control
Flame monitoring equipment
Quench tank agitation
Quenchant level indication
Quench tank circulation draft tubes
Temper furnace recirculation blower.
About Lindberg/MPH
In addition to melting and holding furnaces for non-ferrous alloys, Lindberg/MPH is a leading manufacturer of standard and custom industrial heat treat furnaces, including pit, box, IQ, and belt type for the ferrous and non-ferrous markets. Lindberg/MPH customers cover a wide range of industries including aerospace/military, automotive, commercial heat treating, energy/oil, electronics and the forging markets. Founded in 1917, the company has more than 75,000 industrial furnace installations worldwide and their equipment is backed by a full range of customer support services and the most extensive replacement parts inventory in the industry. Lindberg/MPH is a proven leader in the thermal processing industry, with a long track record of proven policies and management practices.
Lindberg/MPH is owned by Thermal Product Solutions ("TPS"), a leading American manufacturer of custom industrial ovens used for heat treating, finishing, drying, curing, manufacturing automation and process control. TPS is a global leader in thermal processing products and test solutions with brands including Baker Furnace, Blue M, Gruenberg, Tenney, Lindberg, MPH, and Wisconsin Oven. For more information on equipment solutions from TPS visit the website at http://www.thermalproductsolutions.com.