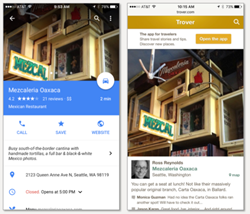 Google Maps is the leader in combining geography, content, and technology into an intuitive customer experience. We're honored that Trover is becoming part of the magic that inspires over a billion Google Maps users to explore
Seattle, WA (PRWEB) January 13, 2016
Trover, the social network for travelers, today announced a partnership with Google Maps to publish hundreds of thousands of beautiful user-created travel photos that span 175 countries. A feed of photos from Trover's community will be streamed into Google Maps to visually showcase the coolest spots nearby and around the world. Trover photos will be available to both mobile and desktop users of these Google services. The partnership will also drive awareness and growth of the Trover community.
Accessible via the web and mobile apps, Trover is a social network created for travelers and local explorers to share their photos, get recognition for their discoveries, and find inspiration for their next outing. Trover's passionate community also curates collections of photos that best represent unique experiences from around the world. Whether capturing the beauty of U.S. National Parks, an insider's view of Disneyland, or things to do while on holiday in Madrid, Trover is all about inspiring people to get out and experience great places.
"Google Maps is the world's most popular travel app and we are thrilled to see our community's photos woven into their fantastic interface," says Jason Karas , CEO of Trover. "Google Maps is the leader in combining geography, content, and technology into an intuitive customer experience. We're honored that Trover is becoming part of the magic that inspires over a billion Google Maps users to explore."
For more information on Trover, visit http://www.trover.com
For more information on Google Maps, visit http://www.google.com/maps/about/
About Trover
Trover is the social network for travelers. It's powered by a joyful community of wanderers and photographers who seek awesome experiences and the coolest spots around the world. Accessible via mobile apps and the web, Trover is where people connect to share their travel photos, receive thanks for their discoveries, and inspire each other to #TroveOn. The hundreds of thousands of beautiful, geo-tagged photos posted on Trover span 175 countries and represent experiences as varied as ziplines in Singapore, markets in Madrid, and cocktails in Kyrgyzstan. Connect with Trover on Facebook, Instagram, Twitter, Pinterest and Google+ and download the mobile apps on iTunes or Google Play.
About Google Maps
Google Maps and Google Earth, both launched in 2005, are online map services aimed at building a digital reflection of the physical world that is open, dynamic, easy to use and designed for sharing. These platforms combine various sources of information — including satellite imagery, photos, Street View imagery, local business listings, user contributions and more — to provide users with the most accurate and comprehensive maps possible accessible on a computer or with a mobile device.
Trover and their respective logos are trademarks, registered trademarks, or service marks of Trover. Other products and company names mentioned are the trademarks of their respective owners.