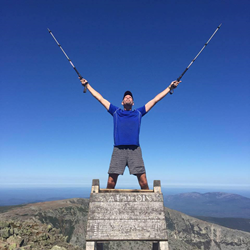 I believe people in recovery from alcohol and other addiction go on and do extraordinary things. I am just one example.
Manchester, CT (PRWEB) January 15, 2016
Phil Valentine, 55 yeas old, in recovery from alcohol and cocaine addiction since 1987 and a CCAR employee for the last 17 years was known as "Right Click" on the Appalachian Trail because of his clicking right knee. Valentine started his trek exactly 5 years from the day he received a stage 4 cancer diagnosis. While recovering from an aggressive and successful chemotherapy and radiation treatment regimen, Valentine sensed a call to hike the Appalachian Trail, a feat that ultimately would take 189 days to achieve.
Two years prior to his start, the CCAR Board of Directors had the unusual yet inspired foresight to fully support the walk. Valentine has earned an international reputation as a leader in the new recovery advocacy movement. A plan was launched for Valentine to use this adventure to "put a face on recovery", one of the movement's central themes. He raised funds for the organization, generating more than $20,000. Valentine framed it this way, "I believe people in recovery from alcohol and other addiction go on and do extraordinary things. I am just one example."
His progress up the east coast was well tracked through Facebook, twitter and Instagram and on a dedicated website http://www.AT4Recovery.org. When he reached Connecticut in July, his story was featured on Fox 61, WFSB TV3 and in the Hartford Courant. Vermont Public Radio also ran the story.
By Valentine's account, the trail itself was extremely difficult. He drew on his recovery experience to accept the trail as it came and in the most trying circumstances, advanced just one step at a time. Valentine endured snow, sleet, rain, lightning, wind and high summer heat. He saw his share of wildlife and sighted 15 different bears and 4 moose; there's a photo on Instagram of Valentine, a mother bear and 2 cubs with a caption of "The elusive 3-bear selfie!"
I heard Valentine speak at a recent event. A gifted public speaker, Valentine artfully recalled many adventures. From miraculous healing to treacherous traverses, he endured the physical toll on his body that included weight loss of 56 pounds, aching muscles, throbbing joints, rashes, blisters, sprains and scrapes. He highlighted the talk with marvelous photographs that emphasized the sheer beauty of the Appalachian Trail. Valentine had the support of his family. His wife Sandy provided trail magic along the way. His 18-year-old daughter Samantha hiked 280 miles in Virginia with him and earned the trail name "Tough Love". Matthew "Riptide" Valentine (age 13) did more than 100 miles with him in Vermont. Valentine also talked about the emotional and mental stress of living on the trail for 6 months.
"Near the end, my soul was constantly at war with two competing desires – the desire to finish and the desire to go home. Standing on Wildcat Mountain in New Hampshire with only 300 miles left, I wanted to quit. In fact, in my head, I did quit. I called Sandy to come pick me up."
But he did not. Through what Valentine described as divine intervention, he found the courage and the will to continue. The hike culminated on September 23rd, 2015 on a brilliant, perfect, sunny day when he climbed Mount Katahdin in Maine. For Right Click, the emotional conclusion was not on the summit but when he collapsed into Sandy's arms waiting at the base.
"I didn't feel an overwhelming sense of achievement or accomplishment. All I felt was relief; I finally got to go home", Valentine said from the comfort of his home.
When asked how he did it, Valentine mused, "I'm not sure. Three months later, I still have a hard time believing I did it. First, credit has to go to God. Second, I never would have made it without my "crew", people I grew to love. Third, I believe recovery makes all things possible."
Valentine is currently working on a book about his adventure. In the meantime he speaks about the journey whenever he can.