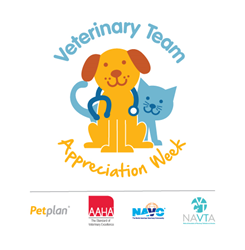 Newtown Square, PA (PRWEB) January 13, 2016
Petplan pet insurance will present the first annual Veterinary Team Appreciation Week from January 17-23 with support from the American Animal Hospital Association (AAHA), the North American Veterinary Community (NAVC) and the National Association of Veterinary Technicians in America (NAVTA).
Created to celebrate the passion and dedication veterinary teams bring to their work, Veterinary Team Appreciation Week is the first event to recognize the entire team in practices and hospital clinics – after all, it takes a village to keep pets healthy!
"We are so inspired each year by the nominees for Petplan's Veterinary Awards that we decided to do something to give back to these extraordinary professionals," says Natasha Ashton, co-founder and co-CEO of Petplan. "Whether it's the veterinarian who saves a pet's life or the practice manager whose compassion provides comfort during a difficult time, each member of a pet's care team plays an essential role – and they all deserve our gratitude and recognition."
During the weeklong event, Petplan will be reaching out to veterinary practices all over the country to thank them for their hard work and dedication – as well as hand-delivering treats to hundreds of veterinary practices near their Philadelphia headquarters. Want to get in on the goodwill? Here are just a few things pet parents can do:
Fatten their emergency fund
Many veterinary practices have a fund set up to help pay for treatments when a pet parent is experiencing extenuating circumstances (like a house fire or other emergency) or when a stray animal is brought in needing treatment. Donating dollars to help the veterinary team continue doing their work – even for animals who have no one to pay for their treatment – is the ultimate reward.
Grant their wishes
Find out if your veterinary practice has a wish list of items they need and donate what you can. Pet supplies, sanitizer and office supplies are common wish list items. Even something as simple as used bedding or towels can be used to provide warmth and comfort to an animal after surgery.
Rev their engines
Spending the day on your feet and dealing with emergencies takes a lot of energy – help your vet team recharge by bringing them a box of joe! Many coffee shops sell bulk coffee for special events; pick one up and surprise your pet's care team with a little afternoon pick-me-up.
Fill their bellies
The vet team works non-stop from the moment they walk in the door. And being on your toes all day in a caretaking role doesn't leave a lot of time for lunch. A tray of sandwiches or treats may provide the only chance to sneak a bite to eat – and it may just get you in the running to becoming their "pet" client.
Spell out your thanks
Thank you cards and notes still go a long way – as do Facebook posts and positive reviews on Google, Yelp and social media (be sure to use the hashtag #VetTeamAppreciationWeek). Put your gratitude into words for all the care these hardworking people have given to you and your pets. Sometimes the simplest gesture can mean the most.
For more details about Veterinary Team Appreciation Week and more ideas for thanking pet care providers, visit http://www.petplan.com.
###
ABOUT PETPLAN
Petplan is more than a pet insurance provider. We're dedicated to giving pet parents the support, resources and tools they need to keep their pets not just surviving—but thriving—into old age. Simply put, we aim to be the kind of company that will make our pets proud. For the third consecutive year, Petplan was listed among the top 50 of Forbes' annual ranking of America's Most Promising Companies – a list of 100 privately held, high-growth companies with bright futures. Petplan is the only pet insurance provider to have been included on Inc. Magazine's list of 500 fastest-growing, privately held companies in America.
Petplan's fully customizable cat and dog insurance policies provide comprehensive coverage for all hereditary and chronic conditions for the life of the pet as standard. Petplan policies are underwritten by AGCS Marine Insurance Company in the U.S. and by Allianz Global Risks US Insurance Company in Canada. The Allianz Group was rated A+ by A.M. Best in 2015. For more information about Petplan pet insurance, visit http://www.petplan.com or call 1-866-467-3875.