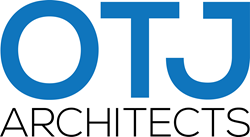 OTJ has experienced significant growth and a more focused company-wide mission in the past few years, and it is a fitting time for our workplace to reflect these changes
Washington, DC (PRWEB) January 14, 2016
2015 was a memorable year for OTJ Architects. The DC-based interior architecture firm marked a quarter of a century since its founding, launched a new brand and announced its move to a new office at 555 11th Street, NW in Washington, DC.
"OTJ has experienced significant growth and a more focused company-wide mission in the past few years, and it is a fitting time for our workplace to reflect these changes," said Roger Sola-Sole, OTJ Partner. "We look forward to designing our space to best support our staff in the same way we would help our clients with their own offices."
Launching OTJ's new brand was an important goal for 2015. This is something that had been in motion since a new company strategic plan kicked off in 2013. OTJ's re-branding process aligned with its goal of constantly challenging its design professionals to design better, smarter workplaces that allow people to work strategically, flexibly and with a better quality of life.
The process was multi-faceted: following strategic planning, OTJ conducted staff surveys and focus groups that led to analysis and brainstorming on how the new brand could better portray the company's initiatives and overall mission. To engage the full OTJ staff in the branding process, a firm-wide logo competition was held and nearly 30 logo designs were submitted.
Throughout the course of a year, OTJ and its staff worked on drawings standards development, website re-design and the creation of OTJ's new Workplace Toolkit, which serves as a guide for clients and their organizations to use as a first step in preparation for the design of their new workplace.
"One of the main goals of the re-branding process was to reflect OTJ's growth in the market as one of the area's largest firms," said Liz Marshall, OTJ Marketing Manager. "Our client portfolio has grown to include some of the most respected Fortune 500 companies with offices across the nation."
Notable clients that OTJ worked with in 2015 include: Capital One Financial, Strayer University, Sands Capital Management, General Dynamics Information Technology, United Way Worldwide, Booz Allen Hamilton, American Nurses Association, Marriott International and Level 3 Communications.
All in all, 2015 was a successful year for OTJ Architects and with the office relocation occurring in the spring, 2016 promises to be another step in the right direction.
Contact OTJ Architects to discuss your architectural needs today.
About OTJ Architects
OTJ Architects is a well-respected national interior architecture design firm that has successfully completed thousands of projects throughout the country. Founded in 1990, OTJ is comprised of five studios headquartered in Washington, DC, with more than 60 architects and designers, many of whom are LEED Accredited Professionals. OTJ works on projects coast to coast and is able to consult in all 50 states. The responsive interior architecture consultants create effective environments through listening, understanding and tailored design. These designs focus on helping clients enhance collaboration, company branding and employee recruitment and retention. OTJ's design teams provide clients with personalized attention to create workplace solutions that reflect their unique, individual needs. For more information, please visit http://www.otj.com.