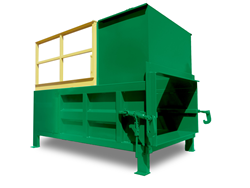 CHARLOTTE, N.C. (PRWEB) January 13, 2016
Wastequip®, the leading North American manufacturer of waste and recycling equipment, today announces the launch of the 245IP Precision Series Compactor. The 245IP compactor has a space maximizing 2-cubic-yard charge box, and is ideal for handling dry waste. It is the third model to be offered in Wastequip's Precision Series compactor line.
Like the 265XP and 265IP self-contained models introduced previously, the design of the 245IP was inspired by extensive research, testing, and comprehensive benchmark studies that ultimately determined the features deemed most important by end-users. All Precision Series compactors feature Wastequip's easy-to-use, 24-volt Guardian Control System™ with Automatic Maintenance Scheduling (AMS).
Like the 265XP and 265IP models before it, Wastequip's state-of-the-art 245IP Precision Series Compactor is packed with advanced features:

24-volt Guardian Power Unit with Automatic Maintenance Scheduling (AMS) that alerts operators when maintenance is due, and Watch Dog timer that prevents motor burnout.
Heavy-duty ratchet binders with 1-1/4" thick hooks and greasable fittings provide optimal performance and long wear.
Simple, user-friendly controls with push-button start makes compactor operation practically effortless (simply load material, turn key to "on" position, and press start button).
NEMA 4-rated controls enclosure protects against windblown dust and splashing or hose-directed water.
57-second cycle time saves time and increases productivity.
Ultra-high molecular weight (UHMW) precision-guided ram glides smoothly above compactor floor for reduced wear and long life.
Large, removable rear and side access panels for simple, time-saving inspection, maintenance, and clean-out.
Available in standard and HD models.
Backed by a three-year structural, one-year parts, and one-year labor warranty.
"Wastequip is extremely excited to introduce the third model of our Precision Series line – the 245IP two-yard stationary compactor," said Kirk Warren, product manager for Wastequip's containers and compactors division. "We're confident that we're bringing the world's best compactors to market. After carrying out exhaustive research and competitive benchmarking, we invested in designing the Precision Series line as a family of application-specific compactors. This new model is compact, and is perfect for handling dry waste."
Like all Wastequip products, the new 245IP Precision Series Compactor will stand up to the toughest job, with less maintenance and downtime. It is ideal for supermarkets, shopping malls, hospitals, office buildings, and retail establishments.
Photos can be downloaded at: https://flic.kr/s/aHskoPJHxV.
ABOUT WASTEQUIP:
Wastequip is the leading North American manufacturer of waste and recycling equipment, with an international network of manufacturing facilities and the most extensive dealer network in North America. Wastequip's broad range of waste and recycling equipment and systems is used to collect, process and transport recyclables, solid waste, liquid waste and organics. The company's brands include Wastequip, Toter, Galbreath, Pioneer, Accurate, Cusco, Mountain Tarp and Go To Parts. For more information, visit http://www.wastequip.com.