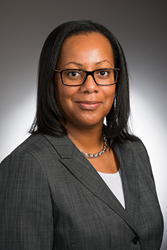 Houston, TX (PRWEB) January 13, 2016
Talismann Dockery has made a career of solving problems. As an engineer, she understands the complex dynamic of evaluating a situation, determining the best plan of action and following through with the solution. Now she's looking forward to putting that experience to a new use – helping seniors and families relocate and clear estates through her new business, Caring Transitions of Northeast Houston.
Caring Transitions is America's largest resource for managing senior relocations as well as downsizing and estate liquidations. In addition to organizing, packing, decluttering, moving and resettling, Caring Transitions can handle estate sales, liquidations, and preparing homes for market. Caring Transitions of Northeast Houston serves Humble, Atascocita, Kingwood, Porter, Spring, The Woodlands and the surrounding areas.
Whether your situation is planned or unexpected, Caring Transitions' services are perfect for seniors moving in with family or into a safer living situation as well as busy families and people clearing out the home of a loved one who has passed. All of Caring Transitions' services are customizable, so clients only pay for the services they need – whether that means managing the entire move and estate-clearing or just getting someone resettled into their new place.
Prior to opening Caring Transitions, Talismann Dockery served in the US Navy and was deployed to the Persian Gulf with the Army National Guard during Operation Desert Shield/Storm. After her time in the service, Dockery was an engineer in the telecommunications, nuclear, energy services, and oil and gas industries.
"I had a great career in corporate America for 17 years, but was at the point in life where I wanted to focus more on my family and personal goals. Since college, I have always volunteered, usually through campus programs, work or church. This business will allow me to align the skills I developed during my career with my passion to help people in my community," Dockery said. "Six years ago, after my mom fell, we went through the transition of moving her into a better living situation. When I decided to open my own business, I thought back to that experience and realized Caring Transitions would have made a huge difference for my family. I want to help other families overcome what can be an extremely stressful time through Caring Transitions."
"Even when you know a life transition is coming, nothing can prepare you for that moment when you realize you have to make decisions and take action. With my mom, it was overwhelming because most of my siblings and I lived out of state. Every family is different, but understanding the dynamic and having someone who can be an advocate for the senior is important," Dockery said.
"I am excited for the opportunity to help families assess their situations and find a personalized solution that will meet their needs. Caring Transitions has a wide variety of tools available, but our specialty is listening to what you need and customizing a unique plan to fit," she added.
Dockery is a Certified Relocation and Transition Specialist, a designation bestowed by an independent organization that evaluates providers of senior relocation services. Caring Transitions of Northeast Houston is bonded and insured and all employees are background-checked.
For additional information about Caring Transitions and to learn how the company can help you and your family, call (281)973-5410, email TDockery@CaringTransitions.com or visit http://www.CaringTransitionsNEHouston.com.
About Caring Transitions
Caring Transitions, founded in 2006, is the first national franchising concept specializing in senior relocation and transition services. With more than 160 locations throughout the United States all owned and operated by Certified Relocation and Transition Specialists, Caring Transitions provides clients with supportive moves, auctions, rightsizing and transitions. This includes expert advice plus a well-executed transition plan beginning with the initial sorting of personal belongings through packing, shipping and selling of items to the final clearing and cleaning of the property. For more information, visit http://www.caringtransitions.com or visit us on Facebook.