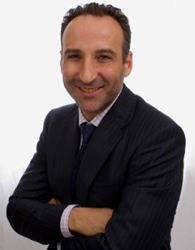 NEW YORK, NY (PRWEB) January 14, 2016
Dr. Ran Y. Rubinstein, board certified facial plastic surgeon at Laser & Cosmetic Surgery Specialist, PC, has announced the application of the revolutionary CoolMini™ technique – a newly FDA approved cosmetic procedure that freezes away excess fat cells found in a double chin – is now available in at his Newburgh practice. While this technique has been used by Dr. Rubinstein with great success to treat larger areas of stubborn fat around the body, this is the first time the technology has become available with a smaller applicator suitable for use around the face.
CoolMini sculpting is derived from CoolSculpting, a non-surgical procedure that that has successfully treated body fat in over 2 million patients. Patients can now undergo a similar treatment of the chin, jowls, and jawline. Additionally, any submental fat can be targeted to create attractive contouring below the face and in the upper neck.
Dr. Rubinstein notes that there are a number of reasons why people notice the accumulation of fatty tissue in the neck including genetics, age, and a fluctuation in weight. Even those with a healthy lifestyle have not seen natural improvement in the area due to skin laxity coupled with gravity. Prior to CoolMini™, facial plastic surgeons were limited in the procedures that could be performed on the area. Liposuction of the lower face and neck were common, but a surgical procedure is not the best option for every patient.
CoolMini™ is best suited for patients seeking minimal to moderate improvement of their double chin, jowls, or other submental fat that distorts the shape of the jawline or upper neck. Patients undergo one to two 60-minute treatment sessions, and most noticed a 20% reduction in the area of treated fat. The changes take place over time, as the frozen fat cells are carried away by the body's lymphatic system, and swelling subsides.
The opposite of a laser treatment where light and heat are used to target tissues, CoolMini™ creates a chilled effect of the fat cells, and is hailed as a procedure that is comfortable to undergo. While there are some lingering side effects from a session, CoolMini™ is non-invasive and requires less downtime than other methods used to treat a double chin.
To learn more about CoolMini™, or to schedule a consultation at Laser & Cosmetic Surgery Specialists in New York, contact the office of Dr. Ran Y. Rubinstein today by calling 845-863-1772 or visit http://www.yourfacemd.com.
Contact:
Laser & Cosmetic Surgery Specialists, PC
200 Stony Brook Ct #2
Newburgh, NY 12550
(845) 863-1772