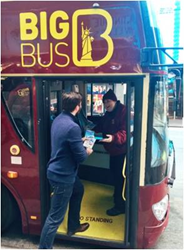 New York, NY (PRWEB) January 14, 2016
New York Pass, the all-in-one attraction pass card that grants pass holders admission to over 90 attractions across all five boroughs, announced today a new partnership with Big Bus New York that makes moving around the city that much easier. Now every One-Day New York Pass includes a free all-day tour on Big Bus New York (all multi-day passes come with a two-day tour) – a value of $62. Previously, New York Pass holders had to purchase a hop-on, hop-off bus package separately.
"The New York Pass is quickly becoming a mobile metro card for tourists," said Ken Barrows, Vice President of Leisure Pass North America LLC, the parent company of New York Pass. "Our exciting new venture with Big Bus New York will allow our customers to maximize their use of each pass by giving tourists and locals the option of using Big Bus to have a seat with a view, or to simply travel between attractions."
Big Bus Hop-on Hop-off Tours have over 30 stops throughout Manhattan and service major attractions such as the Empire State Building and Metropolitan Museum of Art every 15 minutes daily.
Each year, New York Pass enhances the features included and gives visitors and locals more bang for their buck. In 2015, New York Pass launched a new "10-Day Pass" to cater to international tourists staying in the Big Apple for lengthier periods of time and added new attractions such as the 9/11 Memorial and Museum and Fashion Windows Walking Tour. New York Pass recently launched a Mandarin version of its website to accommodate the growing surge in Chinese tourists.
Every New York Pass includes a free 200-page guidebook with detailed maps, hours of operation, tips and directions to every New York Pass attraction featured. The guidebook is also available for download in the Apple or Android store. For more information and a complete list of attractions where the pass can be used, please visit http://www.newyorkpass.com.
About New York Pass
The New York Pass, a smart card that allows cash free entry to over 90 New York tourist attractions along with skip-the-line privileges at certain locations and discounts at select retailers, restaurants, and Broadway shows, is available in durations of one, two, three, five, seven or ten days and comes with a 200+ page New York Pass guidebook complete with hours of operation and directions to every New York Pass attraction, as well as detailed maps and insider tips. The New York Pass guidebook is available in English, Spanish, German, French, Italian, Mandarin, Dutch, and Portuguese.
About Big Bus New York
Big Bus Tours is the largest operator of open-top sightseeing tours in the world, providing sightseeing tours in 18 great cities across three continents. Entering its third year in business in New York City, Big Bus Tours has quickly established itself as the top rated Hop-on Hop-off tour in the market. With four tours and 29 stops, Big Bus Tours provides not only transportation in between the top sights but a fantastic tour including live commentary by our Tour Guides. Big Bus Tours' sightseeing formula has been designed to provide a flexible approach to city discovery. Developing a phone app to mobilize the customer's experience and launching mobile ticketing has kept Big Bus ahead of the curve.