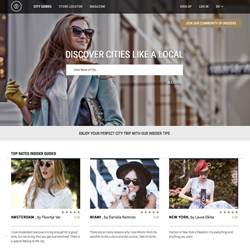 Wearona is a new social place for fashionistas all over the world. Local Insiders help chic travelers with first-hand recommendations to experience amazing trips to the most stylish cities in the world.
Vienna, Austria (PRWEB) January 15, 2016
Are you planning a stylish weekend trip away and looking for local friends who share their ultimate insider tips with you? Then you should take a look at wearona.com
Wearona acts as the personal city travel guide so a fashionista can plan and enjoy a perfect shopping trip to the top fashion capitals in the world. It ́s like talking to a global style concierge who knows the best 15,000 designer stores of the leading 200 fashion, jewellery and watches brands. Wearona can tell stylish travelers all about thousands of hotspots and give insider tips for 50 style savvy cities.
Wearona is very different from standard city guides offering information for tourists. Instead it is a social place for fashionistas and local style heroes sharing their insider knowledge about their favourite designers and places. In a series of curated insider guides created by carefully selected designers, fashion bloggers and artists these local personalities advise better than any search engine how they would spend 24 hours with a stylish traveler coming to their city, showing the most fascinating local places for shopping and leisure, the best local hotspots (from restaurants to art galleries and spas) and the most recommended designer stores.
The number of curated insider city guides is constantly growing with new style heroes like Olga Esina, Vienna, First Soloist of the Vienna State Ballet, Alexandra Ruczynska, Creative Director of de Galluchat Paris, Sarah Zhang, TV producer from Shanghai or popular fashion bloggers Daniela Ramirez, Miami from nanysklozet.com and Cissy Zhang, Sydney from zhangpasi.com to name only a few.
Starting with January 15th, 2016 Wearona goes a step further by offering fashionistas the ability to add their own personal insider guides about a city they love and share it with all other members of the Wearona style community and their social media friends.
They also can rate and review the designer stores they visited and share their personal experience with other users who have the same interests. In this way they create a 'ranking' of the best designers stores in the top fashion cities of the world.
Since 2010 Wearona has offered a compound online magazine with daily articles about the leading designer brands, interviews with local insiders, artists, chefs and style heroes, and objective reviews of designer stores and e-stores. As a special feature fashionistas and fashion journalists can also find the actual brand profiles for 200 designer brands including all up-to-date information, facts and social media news.