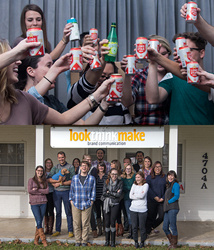 It's important that our company exist in a place that speaks to our company culture, and the curiosity and creativity that feeds and informs our work.
Austin, TX (PRWEB) January 14, 2016
Today, lookthinkmake is proud to announce the local agency's relocation from a renovated Tejano nightclub at the intersection of Airport and Manor to a former public library within the three-acre plot of Artpost Austin on East Cesar Chavez. The advertising and public relations agency's move serves the company's growth and expanded capabilities, and positions lookthinkmake within a hub of creativity and innovation amongst other creative industries that call Artpost home.
"lookthinkmake is driven by the concept of placemaking," said lookthinkmake partner and co-founder Patricia Buchholtz. "Where we live, where we work and how we interact with our environment is key in achieving a rich and fulfilling life, so it's important that our company exist in a place that speaks to our company culture, and the curiosity and creativity that feeds and informs our work. Artpost is the perfect place for that, surrounded by unique people and ventures, and in the heart of an increasingly active and dynamic part of Austin."
Since its founding in 2008, placemaking has been essential to the fabric and roots of lookthinkmake, the clients they work with and the work produced. In 2011, this mission and goal was formalized, allowing the organization to continue to stretch their placemaking muscles in Central Texas and beyond.
"A few years ago we took time to assess who we are as a company, including the types of clients we had, the kind of work we enjoy and the philosophies and ideas we value and that inspire us," said lookthinkmake partner and Creative Director Sean Thompson. "We discovered that a lot of what we do fits into the concept of 'placemaking.' Whether we're working to build a new community, brand a city district, promote a cause, or launch a product that enriches our daily lives, lookthinkmake strives to create stories and identities that craft a sense of place, and make people feel at home."
While lookthinkmake's definition of placemaking is not limited to real estate, the company has influenced and been a part of more than $1 billion worth of real estate projects in 2015 that have shaped the public and private spaces of Austin and Central Texas. In 2015 alone, lookthinkmake has worked alongside some of the most prominent and iconic spaces within the Central Business District of downtown Austin, including The Austonian, Fareground at One Eleven Congress, and The Independent.
"We're excited about what 2016 will bring for our company," Buchholtz said. "Our relocation to Artpost complements the way we've reorganized and expanded the company in the past year. Not only have we added employees to every team at the company – Public Relations, Creative and Account Management – but we've created an additional branch in Digital Marketing. And as we continue to grow and accept new challenges, we believe that the energy and space at Artpost will be the ideal space to continue expanding our minds, our imaginations and the work we do."
###
About lookthinkmake
lookthinkmake is an Austin-based full service advertising and public relations agency made up of geeks, artists, business people, teachers, publicists, event planners, writers, and entrepreneurs. If there's a common thread at lookthinkmake, it's doing things for the greater good and the bigger picture. Motivated by this belief, lookthinkmake creates interactive and integrated brand communications that engage all media. You'll find no divas or hotshots here – just a talented group collaborating to help our clients grow. Inspirational campaigns by lookthinkmake have garnered more than 50 industry awards. Learn more on Facebook, Twitter and the company website.
Links:
http://www.lookthinkmake.com
http://www.facebook.com/lookthinkmake
http://www.twitter.com/lookthinkmake