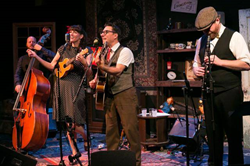 Friends, live music and a something to wet your whistle – it's a sweet evening to join us!
Kansas City, Missouri (PRWEB) January 14, 2016
Mosaic Life Care welcomes the community to a fun night of live music and the delight of creative drink concoctions at the Life Center on Friday, January 15, from 7 to 8:30 p.m. Featuring the live music of Kansas City's "Victor and Penny," the entertainment will treat guests to a daring mix of audacious guitar and sizzling, fiery ukulele to put a modern voice to prohibition-era style jazz.
Celebrating a time when Kansas City was known as the "Paris of the Plans," the tight vocal harmonies of the award-winning Victor and Penny's original songs will charm and delight.
Guests will enjoy a complimentary sassy signature cocktail that mimics the secret seduction of prohibition days from our master of mixology! You can also choose from a variety of sweet and savory appetizers designed to warm the conversation with your friends. Whether attending to make new connections or catch up with old friends or family, Music & Mixology at the Life Center provides the perfect backdrop for conversation and fun.
"Friends, live music and a something to wet your whistle – it's a sweet evening to join us!" says June LeBlanc, Life Celebrant and Life Center Team Leader at Mosaic Life Care. "Music & Mixology gives everyone an opportunity to connect with one another and enjoy exciting, free live music and good food. Whether you attend with a crowd or come to make new friends, you'll have a great time."
For more information, visit[the event's website
About Mosaic Life Care
At Mosaic Life Care, we are committed to providing the best and safest care, while creating a warm, inviting environment for our patients, family members and caregivers. Our innovative life-care model combines traditional health care and a focus on key life elements that affect overall wellness. We have made a commitment to the health, well-being and vitality of the communities and organizations we serve through health-related initiatives and opportunities. Mosaic Life Care is the next generation of health care.