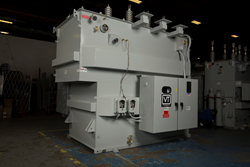 We have been leveraging the engineering and manufacturing innovations of the past and building on the proud heritage to grow in Rincon
Roanoke, VA (PRWEB) January 14, 2016
One year after closing on a strategic alliance to create the nation's second-largest transformer business, Virginia Transformer Corp. is starting to see the benefits of the previous Efacec Power Transformer plant, now called Georgia Transformer.
With the new ownership and management investing in new tools and processes, the 225,000-square-foot facility in Rincon, Ga., is expected to add 150-200 jobs over the next three years to meet demand for large, custom-designed transformers manufactured in the United States and sold primarily to power utility and renewable power generation customers across North and Central America.
The agreement, which took effect Jan. 1, 2015, created the nation's second-largest transformer manufacturing business by capacity and size, and the third largest in revenue, while providing customers with a broad range of transformers and proven engineering and manufacturing solutions from the 500 kVA to 100 MVA range offered by Virginia Transformer up to 500 MVA for Georgia Transformer's larger products.
"We have been able to incorporate large power transformers previously offered by Efacec into the Virginia Transformer product portfolio," said Prabhat Jain, president of Virginia Transformer Corp., a leading manufacturer of custom power electric transformers. "With expanded offerings in the utility, renewable energy, mining, oil and gas, and industrial markets, we're able to provide more products and services to our customers while changing the landscape of the North American transformer industry."
He cites several examples of customers now having a viable East Coast option for larger transformers at Georgia Transformer while buying products from both brands. In addition, Georgia Transformer has experienced improvements in quality and customer service and offers a well-versed sales team offering a full scope of products from both companies.
Georgia Transformer also is currently designing and building transformers to support renewable energy, a new industry for the facility.
"We have been leveraging the engineering and manufacturing innovations of the past and building on the proud heritage to grow in Rincon," added Neerja Gursahaney, managing director and owner of Caravels LLC, a woman- and minority-owned business that purchased the facility from Efacec Energia at the end of 2014.
The new ownership has emphasized training, increased efficiency and the importance of reliability and quality. "We're building on the foundations Efacec established for engineering designs, quality and manufacturing with business processes and planning tools that will increase production to meet our customers' needs, resulting in the addition of future jobs."
The whole plant is a climate-controlled environment to assure pressure, humidity and temperature controls needed to produce power transformers. In 2015, the facility delivered 38 transformers.
"The design technology is very sound and the manufacturing process is very reliable," Jain said. "We are confident we'll continue to win over customers."
The ownership Group Efacec have a mutually beneficial relationship whereby Efacec continues to provide engineering training and support as needed to Georgia Transformer's growing engineering team. In turn, Georgia Transformer provides U.S. commercial and field service support to Efacec.
ABOUT VIRGINIA TRANSFORMER
Virginia Transformer Corp., with its new alliance with Efacec, is the nation's second-largest provider of custom engineered power transformers for utility, renewable energy, industrial, mining, oil and gas, commercial, institutional, specialty and export markets in power ranges from 500 KVA to 500 MVA. Virginia Transformer produces the broadest ranges of small, medium and large power transformers available from a single source. With transformers in 40 countries, Virginia Transformer has facilities and offices in Virginia, Idaho, Mexico and India. For more information, please visit http://www.vatransformer.com for Virginia Transformer and http://www.gatransformer.com for Georgia Transformer.