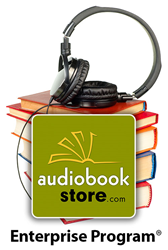 With so much great content available via audiobooks, we felt it was time to provide a solution that is simple for companies to implement and virtually hands-off in terms of managing
St. Louis, MO (PRWEB) February 11, 2016
AudiobookStore.com has announced the upcoming launch of a new program dubbed the "Enterprise Program". According to AudiobookStore.com CEO Darren Eilers, this unique program gives companies and organizations of all sizes a simple to implement and affordable option for providing their employees and members access to a huge library of audiobooks in categories such as Education, Business & Economics, Self-Help, Foreign Language Study, and dozens more.
"Companies these days are looking for new and innovative options to help their employees grow within the company, as well as in their personal lives. With so much great content available via audiobooks, we felt it was time to provide a solution that is simple for companies to implement and virtually hands-off in terms of managing," Eilers said.
Industry statistics have shown explosive growth in the overall popularity of audio books over a wide male and female demographic population. Overall audiobook purchases grew by over 38% in the last year alone. Employer trends show that standard health-wellness and fitness programs are being enhanced with new types of upscale training, self-improvement and educational benefits. Increased popularity and measurable employee enhancements has led to audiobooks being adopted as an employee benefit by many companies.
"Rapid, Accelerated Growth is a core value of our company and refers to the growth and development of our stakeholders, none of which is more important than our talent," said Contegix CEO Matthew Porter. "The AudiobookStore.com Enterprise Program provides a turnkey program to deliver meaningful and valuable content that helps grow our people."
AudiobookStore.com COO Jay Tapp explained that through the Enterprise Program employers easily manage the process through the "Enterprise Command Center", allowing immediate set up of employee groups, approved audiobook categories and monthly download quantity allowances. The organization can see in "real time" how many and which type of audiobooks are being downloaded by their employees. "We also show management what is being expended on the program with customized reports updated in real time. One of the best parts is the actual savings that the plan affords because all audiobooks are available at our FlexPass™ Membership rate." According to their website, AudiobookStore.com offers its FlexPass™ members a significant discount on every audiobook in their catalog, with many titles discounted to just $12.95 or below.
According to Tapp they expect a large number of companies to engage with them in this new program, and already have several high profile companies ready to launch. The program has been in beta testing and will be available in large scale on February 15, 2016.